Contents:
The Agendashift Slack has a #featureban-changeban channel and it's easily the best place to get answered your questions on Featureban or Changeban. Meanwhile, if you're thinking of facilitating a Featureban game, please read this page carefully.
Featureban is currently at version 3.0, June 2019.
Introduction
Featureban is a simple, fun, and highly customisable kanban simulation game. Since its creation in 2014 it has been used by trainers and coaches in Lean, Agile and Kanban-related events the world over.
The game starts simple with visual management (iteration 1); after that we layer on things like WIP limits (iteration 2) and metrics (iteration 3). This incremental approach is very much by design, and you are free to introduce your own elements in a similar fashion.
As per the copyright notice at the bottom of this page, Featureban is licensed under a Creative Commons Attribution-ShareAlike 4.0 International License. Customisation is encouraged!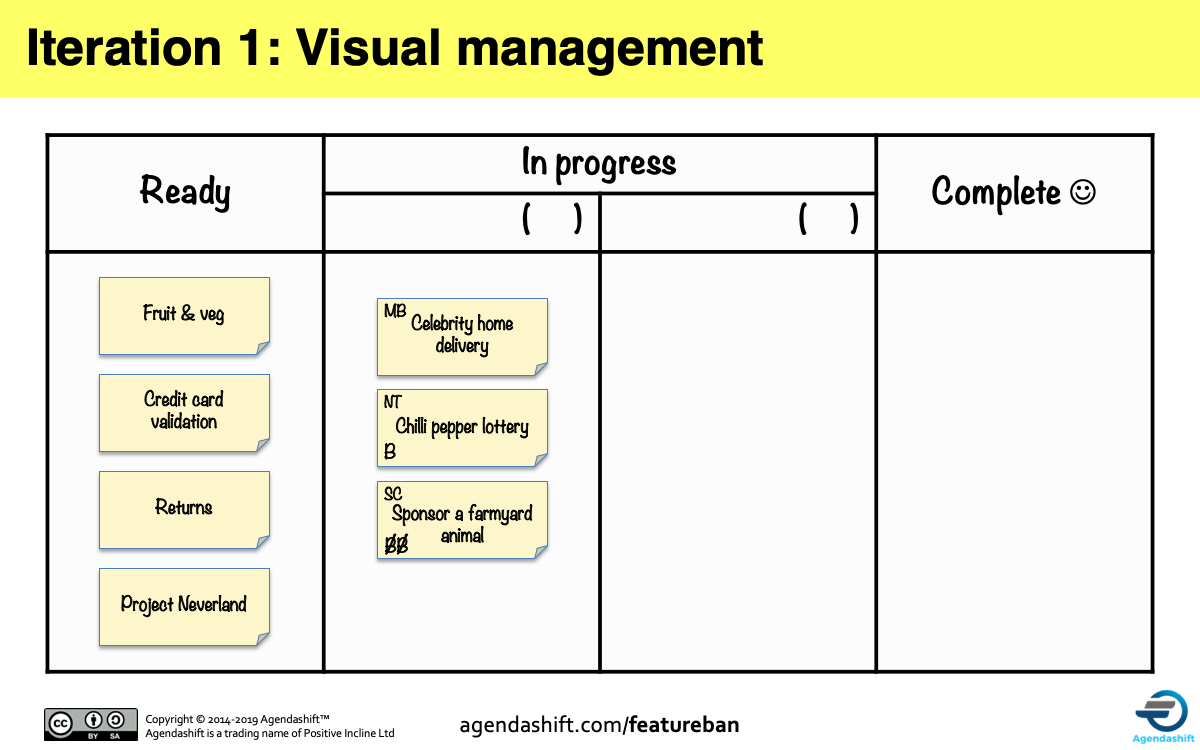 Video
Here I am facilitating a big Featureban session at the Agile Gurgaon 2016 conference:
Alternatively (we've had issues keeping that video up), try the video on the Changeban page instead. The two games differ somewhat in scope but their mechanics are much the same.
Timing
Time and priorities depend very much on needs, goals and audience. These are typical:
Iterations 1 and 2 followed by a "here's one I prepared earlier" on iteration 3 (there's plenty of material in the slides to support that), plus general Q&A — 75-90 minutes is comfortable, depending on the amount of discussion you encourage
Iterations 1-3 with a few minutes of efficient debrief for each — 90 minutes or so
Iterations 1-4 (all of the provided material) ‐ up to 120 minutes out of a longer workshop
Option #1 above is very meetup-friendly.
Materials, downloads, and translations
Essential:
For the board: A3-sized or larger paper or card, a flipchart, or a whiteboard per team. Smaller (eg A4) paper will do at a pinch but I don't recommend it. I've not yet tried Featureban with an electronic kanban board but I can imagine circumstances where it might be worth a try.
Plenty of sticky notes. For an A3 board (which is smaller than your typical real-life kanban board) I use small . Colour isn't important.
A supply of suitable pens: finer pens for writing stickies, marker pens too if teams will be constructing their own boards instead of using one that has been pre-printed.
A deck of cards per team, the source of variation (the answer to the question in the deck: "What do the cards represent?"). Regular playing cards work fine, but you can also print cards which have the rules for red and black shown on them.
Here are the optional cards printed as 65mmx65mm business cards (done here by Moo):

Well worth the trouble! Note that since these cards were printed we've updated the source to make clear that the last rule applies only to Changeban.
Note:The Featureban Dropbox contains the 'classic' version 2.2 (unsupported) for anyone preferring to use coins rather than cards as the source of variation. Also included is the transitional version 2.3 that supports both. The current version is significantly slicker though and is the one recommended.
Near-essential (though see this blog post on Featureban unplugged) is the slide deck and the means to display it. PDF versions in English can be downloaded directly:
Optional:
Pre-printed boards, template here. My local print shop does these for me on 300gsm card but that's a nice-to-have.
Metrics capture sheets for round 3 (one per team), template here
Excel spreadsheet for generating charts and metrics, here
Original sources and translations for all of the above are to be found in the Dropbox; for access to that see the Customisation section.
Tips
Experience before explanation! Let people discover things for things for themselves; your job is to help consolidate their learning afterwards in the debriefs. Please resist any temptation to kick off with teaching — you might believe it is necessary, but trust me, the learning experience will be less effective as well as a lot less fun.
Don't let players think that they should take it in turns to move. In the standup meeting, they share what colours of card they drew (or the results of their coin tosses) and discuss what moves they plan to make. They won't get much benefit from the discussion in iteration 1 but should realise in iteration 2 that they can coordinate their moves to good effect.
Be ready to stop iteration 1 as soon as most teams have delivered a couple of items. Most teams will have lots of WIP in the second column. Some useful phrases to use: "All starting and no finishing" and "Lots of activity, little delivery".
Remind teams to hold replenishment events before their backlogs become depleted. In later iterations, they might reuse "done" tickets to save time.
Do not reset boards between iterations 1 & 2. Rather than a new simulation, think of it as an intervention on a working system.
Ensure everyone agrees before playing iteration 2 that the only rule change has been the introduction of the WIP limit. In debriefs, I'm careful not to use the word "collaboration" myself until participants make the key observation that this has improved significantly. Gentle nudges may be required from the facilitator before this comes out, but be patient, it usually does without help!
A WIP limit of 3 per column works well. The fact that the limit is imposed by the facilitator rather than proposed by the team should be an interesting discussion point when you get to "Improve experimentally, evolve collaboratively" (CP6) in the debrief.
As per the Timing section above, one option for iteration 3 is to skip playing it and instead going straight to the debrief slides.
A recent addition is a fourth iteration which I use only when I have a couple of hours available (eg in a workshop). One option is to explain this iteration without actually trying it, eg to initiate a discussion or exercise on change management.
One last tip I heard first from other facilitators and can confirm myself: interaction around the game is improved if the board is mounted on a flipchart easel or taped to a wall so that players don't spend all their time with their heads down. They may wish to stand.
Customisation
The Featureban game and its resources (including this page) are covered by a Creative Commons Attribution-ShareAlike 4.0 International License. Customisation and translation is encouraged — iteration 4 even offers some suggestions!
To obtain the original source files (.pptx, .docx, and .xslx) rather than the PDFs, just ask! Please use your preferred email address for Dropbox:
I understand that I will be joining the Agendashift mailing list also
Play Featureban online!
We're thrilled that our friends at Kaiten have created a free online version of Featureban. Play it here:
Evgeniy Stepchenko has produced this guide:
Updates
For the most up-to-date information, go to the #featureban-changeban channel in the Agendashift Slack. Any formal announcements will be published on the Agendashift blog and posted to the Agendashift LinkedIn group. News of major new versions will be emailed to registered users (see Customisation above). For the full history of Featureban-related updates, check out blog posts tagged featureban.
Changeban
Changeban is based on Featureban, with a Lean Startup-inspired board design and a followup exercise that introduces hypothesis-based change. If you've read Right to Left: The digital leader's guide to Lean and Agile (2019, audiobook 2020) or Agendashift: Outcome-oriented change and continuous transformation (2nd edition 2021), the board design at least will be familiar! If you're in the Agendashift Slack, go to channel #changeban if you have any questions.
Enjoy!
Mike Burrows, October 2015 (last updated April 2020)


Copyright © 2014-2023 Agendashift Ltd.
Featureban by Mike Burrows of Agendashift Ltd is licensed under the Creative Commons Attribution-ShareAlike 4.0 International License. To view a copy of this license, visit https://creativecommons.org/licenses/by-sa/4.0/.
---
Related
About us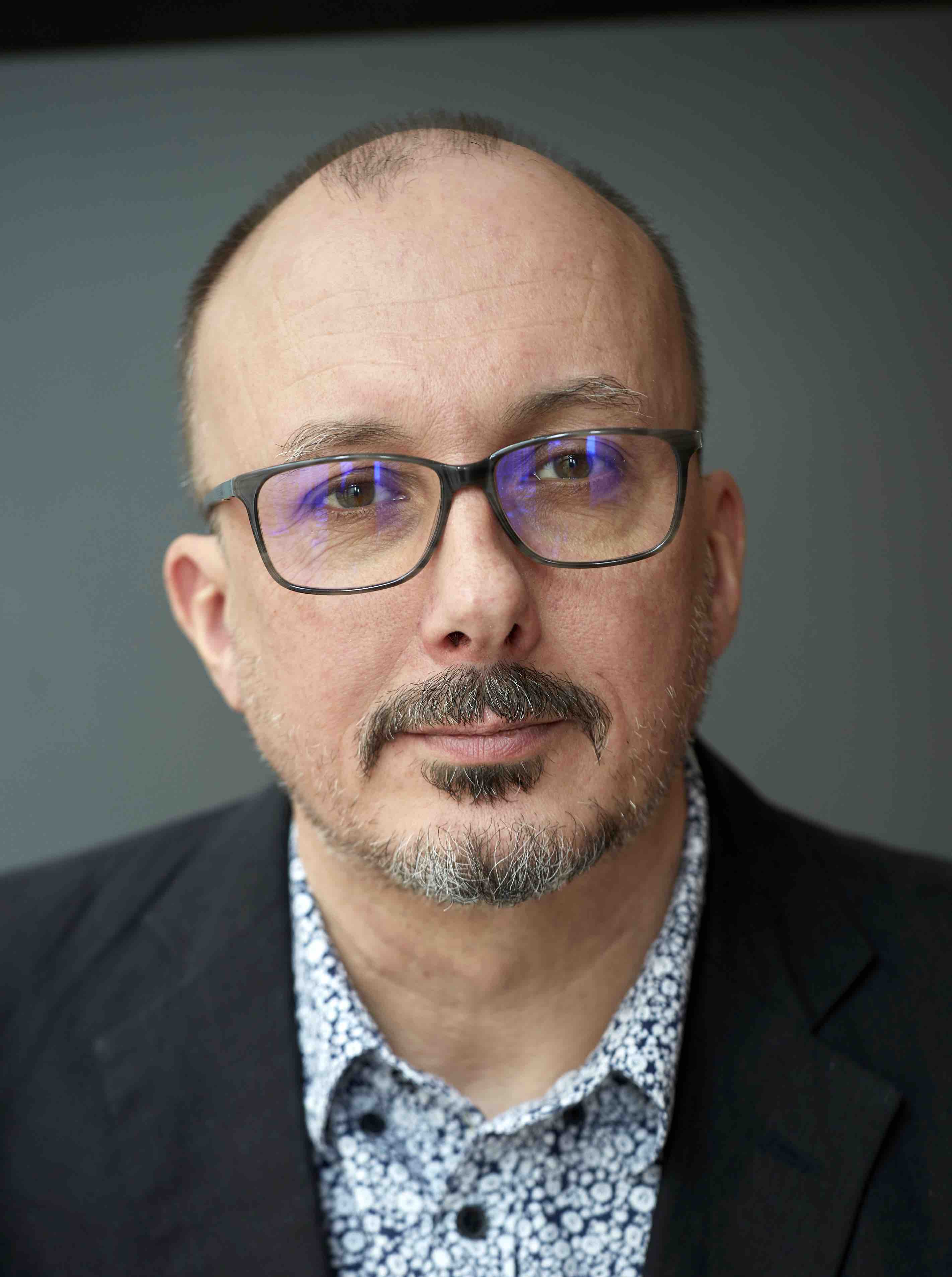 Agendashift™ is brought to you by Agendashift Ltd (formerly Positive Incline Ltd), UK-based specialists in leadership, engagement, strategy, and change. Founder Mike Burrows came to prominence in the Lean-Agile community as the originator of Kanban's values model, out of which came his first book, Kanban from the Inside (2014). His more recent books Agendashift (2nd edition 2021) and Right to Left (2019, audiobook 2020) bring a resolutely needs-based and outcome-oriented perspective to change, transformation, and the Lean-Agile landscape as a whole, contributing meanwhile a number of popular tools, games, and other resources. He works as a consultant, facilitator, and trainer, and as a keynote speaker at events public and private around the world.