Welcome to Changeban! The Agendashift Slack has a #featureban-changeban channel, and it's easily the best place to get answered any question you may have. Meanwhile, if you're thinking of facilitating a Changeban game, please read this page carefully.
Changeban is currently at version 1.2, June 2019.
Contents
Introduction
Changeban is a Lean Startup-flavoured Kanban simulation game. It is based on our classic game Featureban, with easier mechanics (since brought to Featureban in version 3.0), a Lean Startup-inspired board design, and some different learning objectives.
If you've read Right to Left: The digital leader's guide to Lean and Agile (2019, audiobook 2020) or Agendashift: Outcome-oriented change and continuous transformation (2nd edition 2021), the board design at least will be familiar: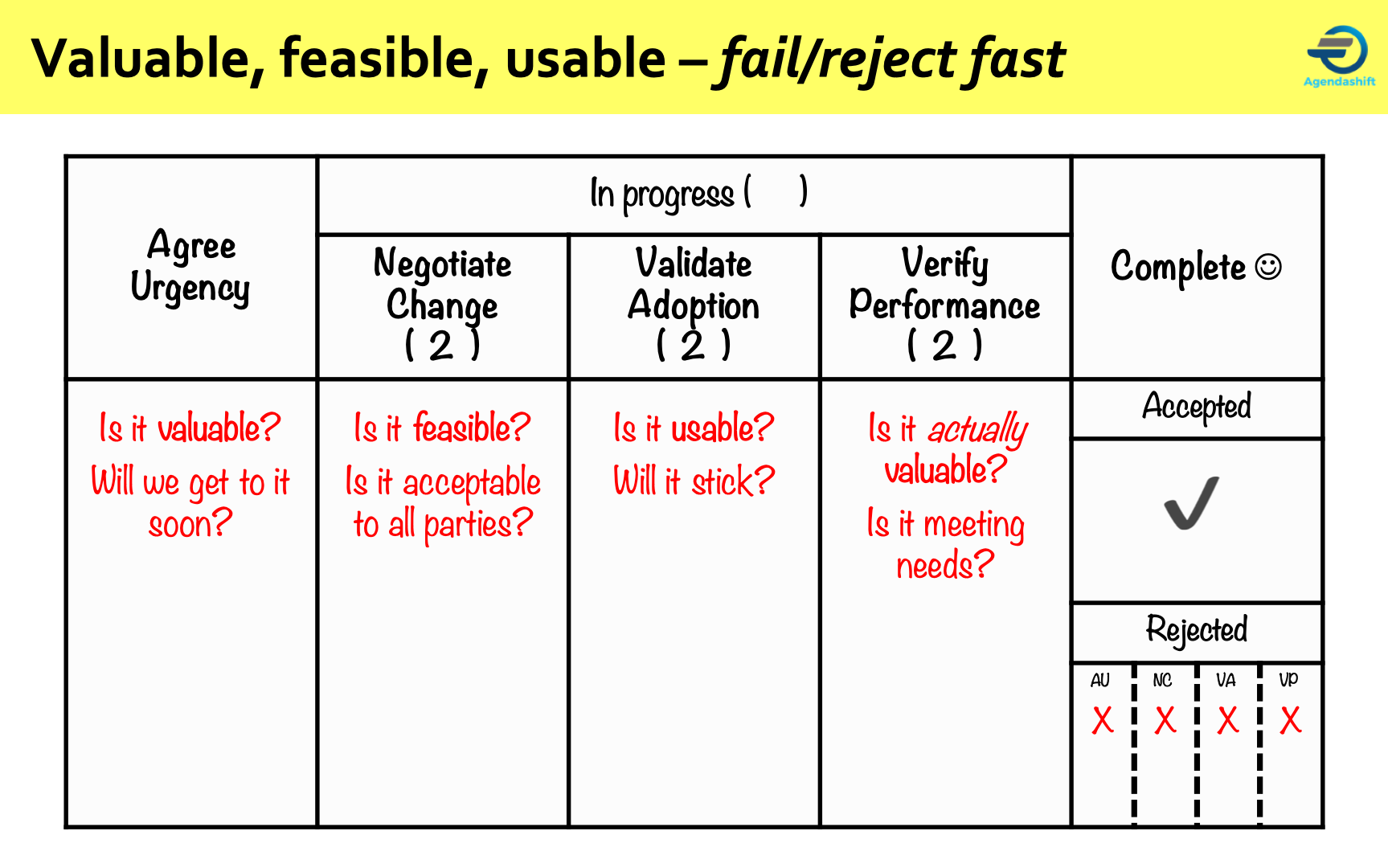 My first introduction to this kind of board design was via Jeff Anderson; similar designs resurface from time to time in the Lean Startup literature.
Like Featureban, Changeban starts simply with visual management (iteration 1), and then adds limits on work in progress (iteration 2). Players notice for themselves not only that the system behaves very much better after this change, but also that they collaborate much more. Here is a not-untypical example of the kind of crazy, off-the-board, all-starting-no-finishing WIP that this simple mechanism addresses: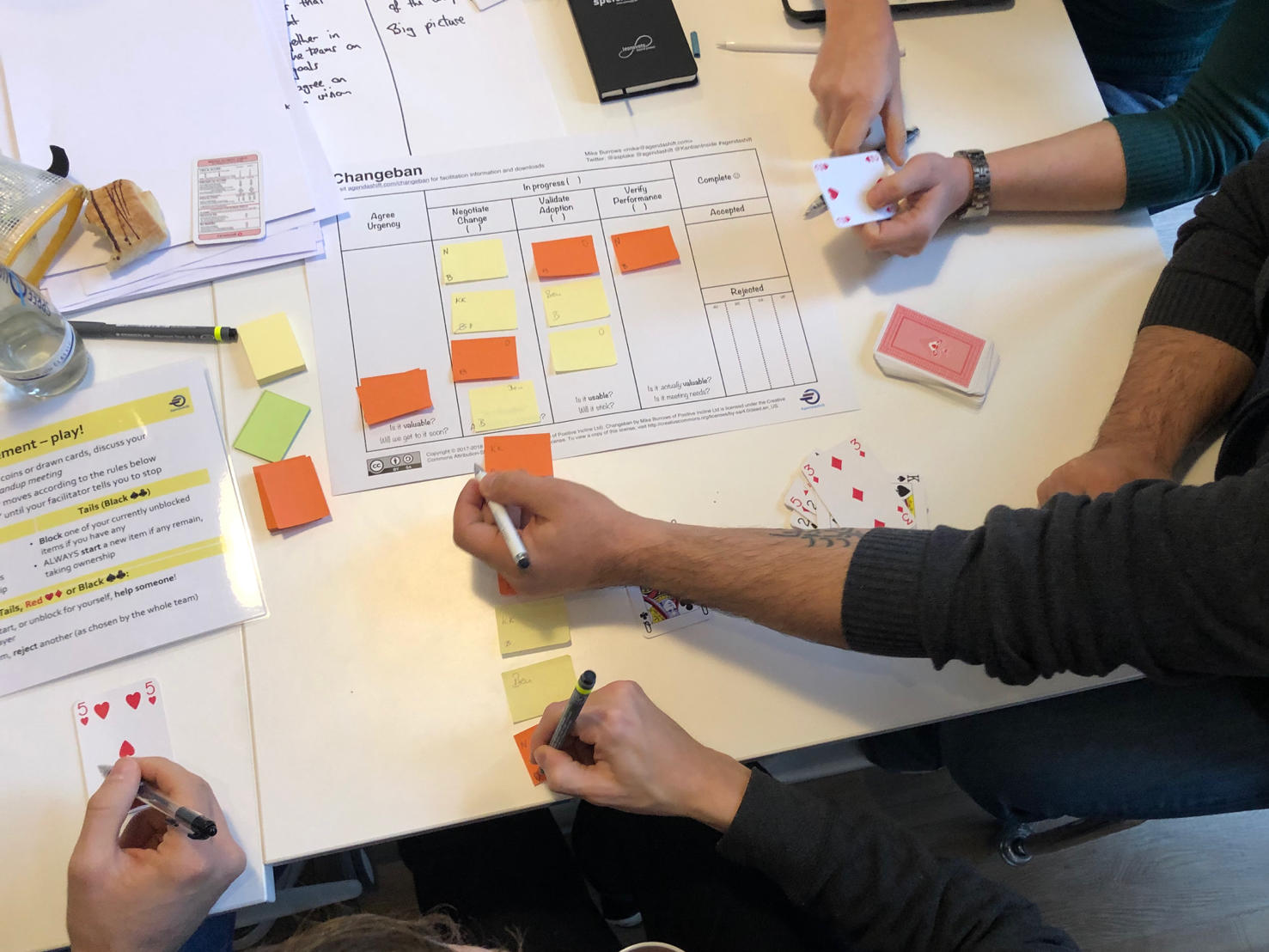 Unlike Featureban, which models a development process, Changeban places a strong emphasis on the knowledge discovery process, organisational learning, etc. It uses a scoring formula that rewards not only successful experiments but also those rejected at different stages of the process. At the end of the game, experiments can be designed retrospectively, modelling how we can reflect not just on what we learn but on how we learn it: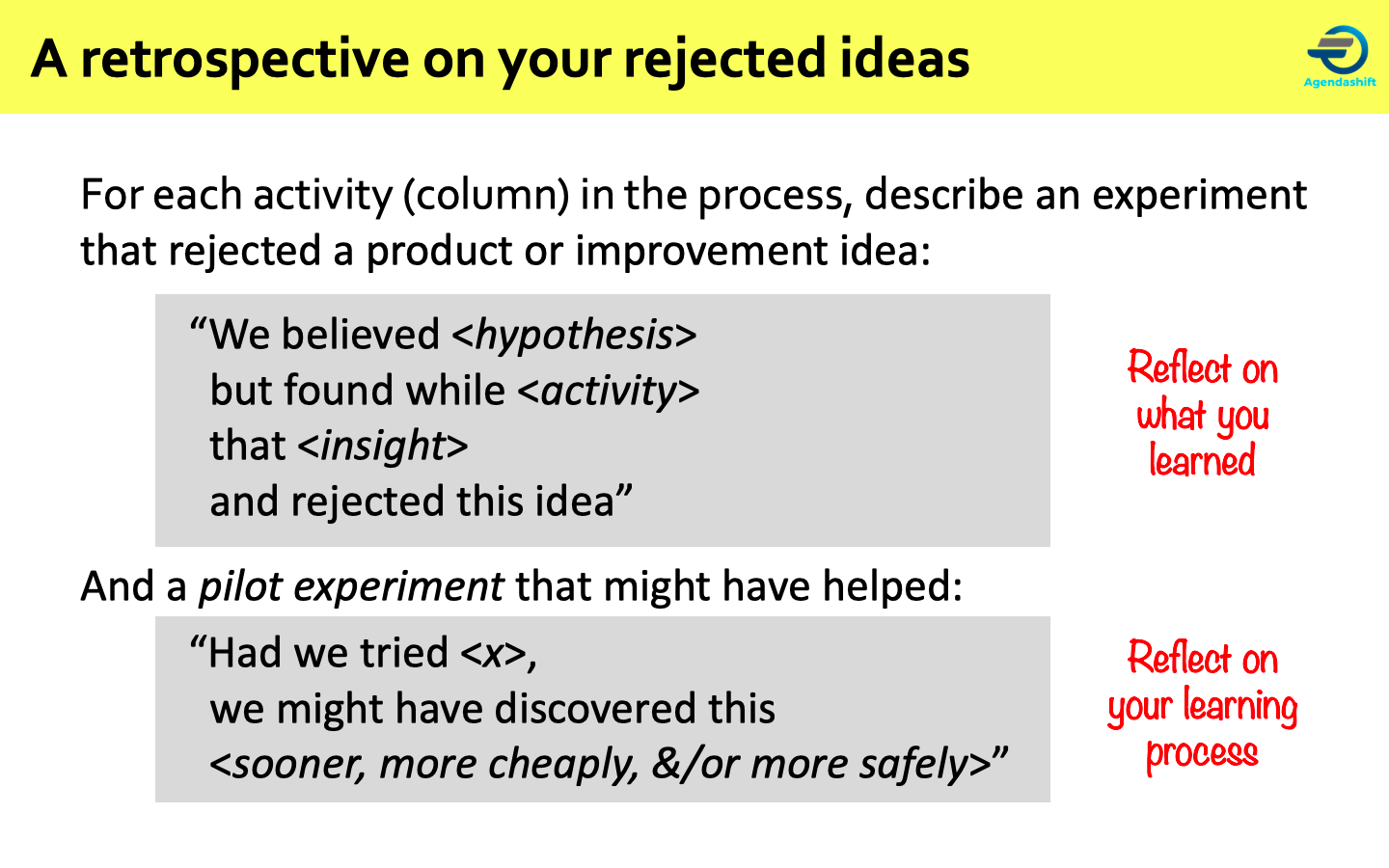 Participants can practice this kind of framing for both product ideas (eg features) and improvement ideas. In the above, <activity&gt refers to the stage in the process at which the experiment was rejected; the game encourages rejection to be seen as an active and positive decision.
Video
Recorded at a 2-day Advanced (now Deep Dive) workshop in London in April 2019, here is a Changeban game session facilitated by its creator Mike Burrows. The recording is produced by Agendashift partner Steven Mackenzie of Aptile Ltd and it begins with some context from the workshop.
(For a clickable version of the running order below, view the video on the Youtube site and click "Show more" under the description)
00:00 Introduction: Separate experiments from execution; consider what we have learned, and how we could have learned it more quickly
03:05 Changeban: Board design and process model
07:03 Game rules and scoring
21:12 Iteration 1 (facilitated start, step through the rules, edited group play)
29:23 Calculate scores (iteration 1)
31:03 Observations from iteration 1, introduce Work In Progress limits (WIP limits)
32:00 Question about the two types of WIP limit - per column, or across a span of columns
33:07 How to score a perfect 20 - items rejected equally from every activity in the process
33:42 Clarification of "Endgame rules" (the rules are the same, the actions available become more limited)
35:15 Iteration 2 - The same rules, but now we respect WIP limits; how WIP limits affect activity; work items are allowed to move more than one column per round; if we don't shuffle the cards, we'll get the same "luck"
38:20 Start Iteration 2 - Edited gameplay
39:32 First team finishes, so maximum of 2 minutes left
39:50 Calculate scores (itereration 2); metrics can drive dysfunctional behaviour
41:32 Observations from iteration 2; higher scores; more collaboration (and better knowledge about how to get a perfect score); think about "rejection" as a win; board designs for blocked work; winning strategies
47:56 Starting vs Finishing and "pull systems"
52:55 When we reject work, what have we learned; how could we learn faster? Two levels of learning - "double loop learning"
54:22 (Skipped: how to describe work that flows through this process - constructing experiments)
Materials
The materials as seen in the earlier picture:
Optional: A board printed on A3 card. You could use a hand-drawn board on A3 or flipchart paper instead but printed card is definitely nicer. Download the PDF here or sign up (below) and get the .pptx file for customisation or translation.
Small stickies in two colours. I use 51mm x 38mm, standard yellow in combination with whatever else I have in my equipment bag.
A deck of cards per team, the source of variation (the answer to the question in the deck: "What do the cards represent?"). Regular playing cards work fine, but you can also print cards which have the rules for red and black shown on them.
Pens
Here are the optional cards printed as 65mmx65mm business cards (done here by Moo):

Well worth the trouble!
Also:
Currently, all materials are available in English and Italian. Further translations and adaptations are of course very welcome – Featureban has several!
Online game
Agendashift partner Tom Ayerst has built and open sourced an online version. Play it here:
Please bring any related questions or issues to the #featureban-changeban channel in the Agendashift Slack.
Tips
Plan for teams of 4 or so people.
Experience before explanation! Let people discover things for things for themselves; your job is to help consolidate their learning afterwards in the debriefs. Please resist any temptation to kick off with teaching — you might believe it is necessary, but trust me, the learning experience will be less effective as well as a lot less fun.
Don't let players think that they should take it in turns to move. In the standup meeting, they tell each other what cards they have drawn and discuss what moves they plan to make. They won't get much benefit from the discussion in iteration 1 but should realise in iteration 2 that they can coordinate their moves to good effect.
It's a good idea to practice the first "day" or two together. The rules for red and black cards are different but in day 1 of iteration 1 the net effect is the same. The beginning of iteration 2 is made more interesting by the WIP limits.
Be ready to interrupt iteration 1 for a quick discussion as soon as your quickest team has completed an item or two. Most teams will have lots of WIP in the second column. Some useful phrases to use: "All starting and no finishing" and "Lots of activity, little delivery". Unlike Featureban, the iteration continues after the interruption (usually until all stickies are completed, although it's ok to timebox each iteration for 20-25 minutes if you wish).
It should be clear before playing iteration 2 that the only rule change (or "policy" change, if you prefer) has been the introduction of the WIP limit. In debriefs, I'm careful not to use the word "collaboration" myself until participants make the key observation that this has improved significantly. Gentle nudges may be required from the facilitator before this comes out, but be patient, it usually does without help!
Updates
For the most up-to-date information, go to the #featureban-changeban channel in the Agendashift Slack. Any formal announcements will be published on the Agendashift blog and posted to the Agendashift LinkedIn group. News of major new versions will be emailed to registered users. For the full history of Changeban-related updates, check out blog posts tagged 'changeban'.
Copyright © 2017-2023 Agendashift Ltd.
Changeban by Mike Burrows of Agendashift Ltd is licensed under the Creative Commons Attribution-ShareAlike 4.0 International License. To view a copy of this license, visit https://creativecommons.org/licenses/by-sa/4.0/.
Sign up for access to the Featureban/Changeban Dropbox
Just ask! Please use your preferred email address for Dropbox:
I understand that I will be joining the Agendashift mailing list also
Enjoy!
Mike Burrows, September 2017 (last updated June 2019)


---
Related
About us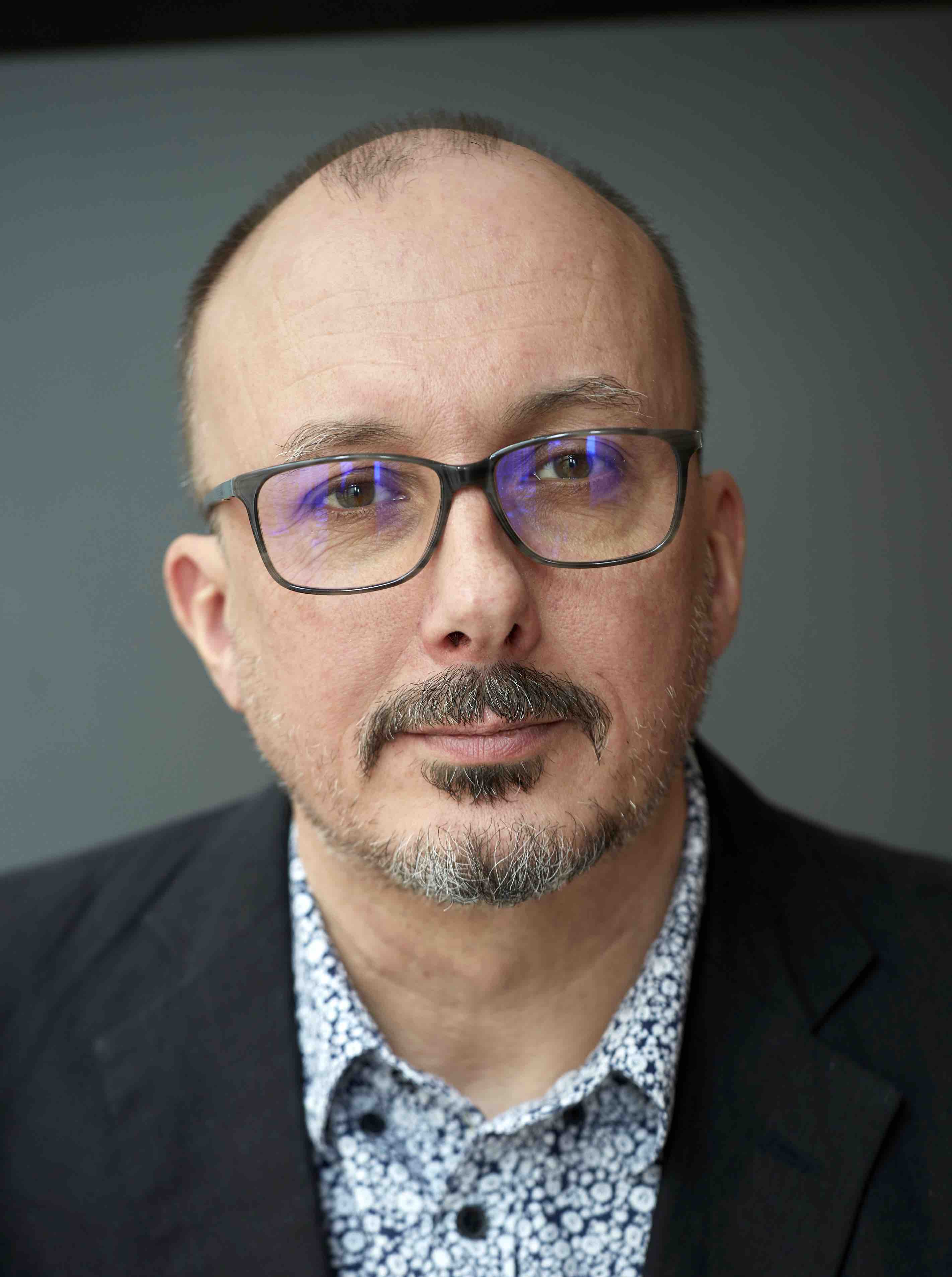 Agendashift™ is brought to you by Agendashift Ltd (formerly Positive Incline Ltd), UK-based specialists in leadership, engagement, strategy, and change. Founder Mike Burrows came to prominence in the Lean-Agile community as the originator of Kanban's values model, out of which came his first book, Kanban from the Inside (2014). His more recent books Agendashift (2nd edition 2021) and Right to Left (2019, audiobook 2020) bring a resolutely needs-based and outcome-oriented perspective to change, transformation, and the Lean-Agile landscape as a whole, contributing meanwhile a number of popular tools, games, and other resources. He works as a consultant, facilitator, and trainer, and as a keynote speaker at events public and private around the world.