Agendashift
TM


Transforming Lean‑Agile transformation

Are you in the business of Lean-Agile transformation? Take advantage of our powerful online, workshop-based, and personal coaching tools for organisations, teams, and individuals.

You can help bring about:
Deeper shared understanding of your current situation
Rapid agreement on action areas and outcomes
Well-framed actions, integrating powerful techniques drawn from Lean Startup, A3, Cynefin, and Kanban
Disciplined follow-through with effective and sustained change leadership
Agendashift is values-based, hypothesis-driven, complexity-aware, and methodology-neutral to the core — use us with your preferred Agile process framework or none.
6+1 Essential strategies for successful Lean‑Agile transformation
Considering a Lean-Agile transformation? Make sure you read this first!
Become an Agendashift facilitator
New! Join the Agendashift partner programme and gain full access to our tools and workshop materials.
Latest news from the Agendashift blog
The agenda and the shift: what Agendashift makes explicit
"Make your agenda for change explicit". Well what does that mean? Were we or one of our soon-to-be-revealed partners to take you through the process, here are the key things we will help you make explicit. Which of these are "agenda" and which are "shift" I'll leave to your imagination – perhaps it depends on where […]
Outcomes, alignment, and changes to our A3 template
Last week's post Two new tools* and how I'm finding them useful has generated a lot of interest – after just six days it is already the 3rd most popular post of the year! *Spoiler: Clean Language and the Cynefin Four Points Contextualisation exercise One piece of detail I neglected to mention is a tweak I have made to the […]
Agendashift Values-based delivery assessments
"Very easy to get into but surprisingly deep" — agile coach, East Midlands
One web-based tool, multiple formats, methodology neutral:
Organisational culture surveys
Team-based change planning
Leadership coaching (onsite or remote)
Identify opportunities for positive change by exploring your organisation's alignment to the values of transparency, balance, collaboration, customer focus, flow, and leadership.
The full 43-prompt edition of the assessment tool is available to our partners, our beta testers, our coaching/consulting clients (both onsite and remote, corporate and individual), and to attendees of our training workshops. You can try the mini (18-prompt) edition and contribute to our global survey at any time.
Agendashift debrief/action workshops
"Thanks for visiting us yesterday! We got a lot from the discussion & have already started to put outcomes into action" — UX specialist, Northern Ireland
Debrief your Agendashift survey in a facilitated workshop. Working on things that really matter to your organisation, learn some powerful techniques from Lean Startup, A3, Cynefin, and Kanban.
Unique training workshops from the author of Kanban from the Inside
"Practical teaching which will be easily implemented in my business. Thank you" — business owner, Northern Ireland
"Condensed, thought-provoking, generated much team discussion" — test manager, southern England
Free! All attendees receive the opportunity to survey their team using the full 43-prompt edition of the Agendashift Values-based delivery assessment.
Lasting Lean‑Agile transformation:
Condensed 1-day training in Lean, Agile and Kanban, with Agendashift and hypothesis-driven change
Proven effective with mixed audiences, eg IT & business, managers & staff, experienced & novice
Establish a platform of common understanding for your Lean‑Agile transformation
Explore the values, principles, and paradigms of Lean, Agile, Kanban, and Scrum and how to integrate them successfully
Values-based leadership (aka Applied Servant Leadership):
Essential models and tools for the Lean‑Agile leader (2 days)
Suitable for current and aspiring leaders at all levels
Learn the true transformational intent of Servant Leadership
Explore our Lean‑Agile transformation strategy framework in your own organisational context
Learn a range of complementary leadership models alongside practical tools and techniques
Personalised Packages
"This is just what we needed — raring to go now!" — senior developer, Manchester
Personal coaching packages — one to three sessions (onsite or remote) working through the full 43-prompt asessment, identifying areas for attention, generating and framing actions
Improvement packages — survey (prework), debrief/action workshop, implementation followups, case study and training elements as required
Team/departmental packages — all the above, plus training in groups of up to 24 people
Coach the coach — if you're looking to use Agendashift in your own Lean‑Agile coaching
Consulting
We have worked with a broad range of organisations in the banking, insurance, energy, and media sectors, and with departments and agencies of national and devolved government. We engage both directly and indirectly through other professional service firms, notably Hivemind Network (UK), Code Genesys Inc (UK and US), Valtech (UK and Singapore), Avega Group (Sweden), Innovation Roots (India), and Lean Kanban Inc (US).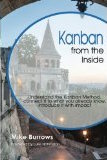 About us
Agendashift is brought to you by Positive Incline Ltd, UK-based specialists in leadership and change management with Lean, Kanban and Agile. Founder Mike Burrows pioneered the values model for the Kanban Method that led to his definitive book, Kanban from the Inside.