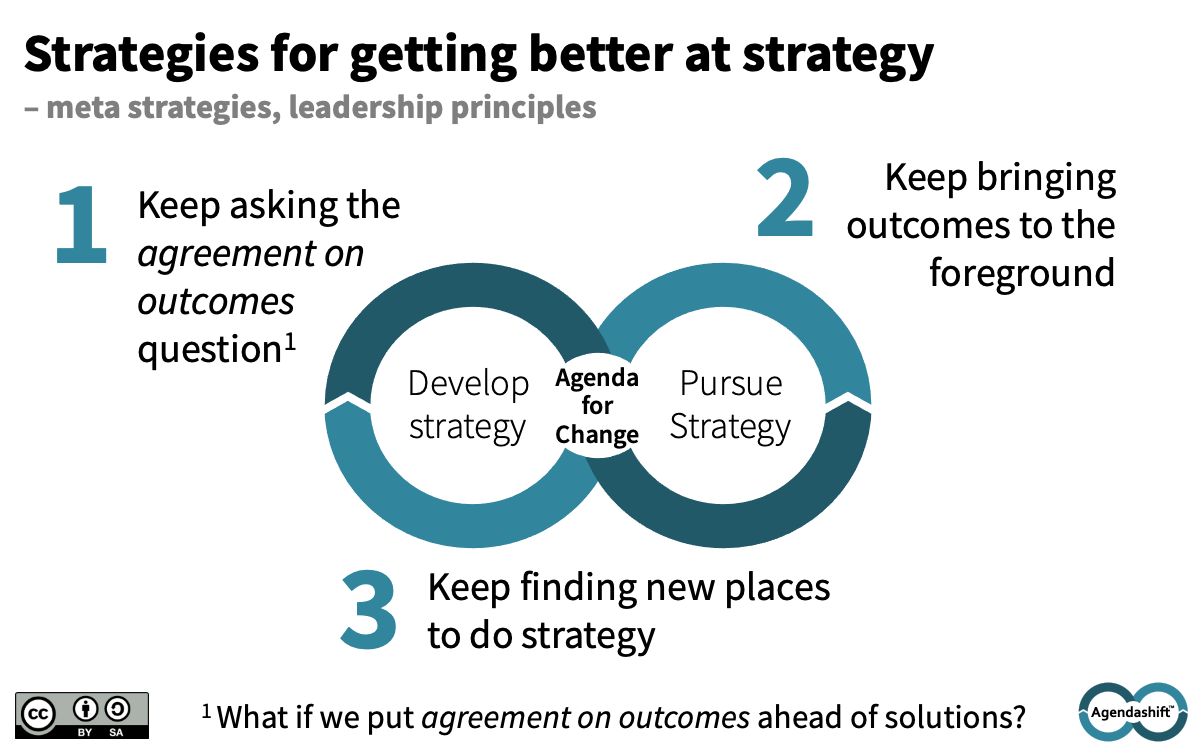 It's one of leadership's biggest challenges: somewhere there's a desire for change, but somehow it just isn't happening.
You find yourself facing three universal obstacles:
Cynicism and disengagement – the legacy of past attempts at change
Same old, same old – hidden systems reinforcing old behaviours, driving the same old results
Innovation stifled – the big decisions made already, the people closest to the problem lacking authority
Familiar? You shouldn't be surprised: traditional approaches to change make these problems worse, not better. That's our motivation to provide a real and practical alternative, helping organisations succeed at developing and pursuing the kinds of strategy that go hand-in-hand with transformation.
We follow three guiding principles:
Keep asking the agreement on outcomes question:

What if we put agreement on outcomes before solutions?
Keep bringing outcomes to the foreground
Keep finding new places for strategy to happen
These are leadership strategies, strategies for getting better at strategy, meta strategies if you like. Having the kinds of conversations that too often get missed, working backwards ("right to left") from key moments of impact and learning, and engaging with your organisation in all of its complexity – developing business agility at every scale.
Just trying them out – in one of our workshops perhaps – is enough to generate something of real business value. Work at them for just a little while longer and the transformation process is already underway. As for scale, that depends on who's invited, and we can help with that too.
Who we are:
Expert practitioners working at the exciting intersection of strategy, organisation development, and delivery
What makes us different:
Our deep commitment to outcomes: not just outcomes first but outcomes at the forefront throughout – maximising their meaningfulness, their significance, and their power to inspire collaboration, innovation, and reinvention
Our open framework: Having more in common with dialogic organisation development, Lean Startup, and OKR than it does with traditional change management, Agendashift is in the vanguard of a new category, the engagement model. Agendashift gives leaders at every level new ways to approach their adaptive challenges, to keep people engaged people in that process, and to keep the organisation whole as it transforms.
Our mission: the wholehearted and Deliberately Adaptive (deliberately-adaptive.org) organisation. Not someone else's framework to be imposed out of context, but something to pursue – a holistic integration of strategy, delivery, and organisation development that works at each scale and between scales, embedding engagement, participation, and purpose
What we provide:
More: About Agendashift | Agendashift on Slack | Agendashift on LinkedIn | Become a partner | Events | Contact us
External: Agendashift Academy (academy.agendashift.com) | The Deliberately Adaptive Organisation (deliberately-adaptive.org)
Below: Agendashift Academy | Headlines | Books | Partners | Framework & Resources | Assessments | Sitemap
Agendashift Academy
There is no challenge quite like being a leader in a transforming organisation. If you find yourself in that position, you aspire to that role, or you support others in that journey, then the Agendashift Academy's core curriculum Leading with Outcomes is for you.
The Leading with Outcomes modules, available as self-paced or instructor-led training: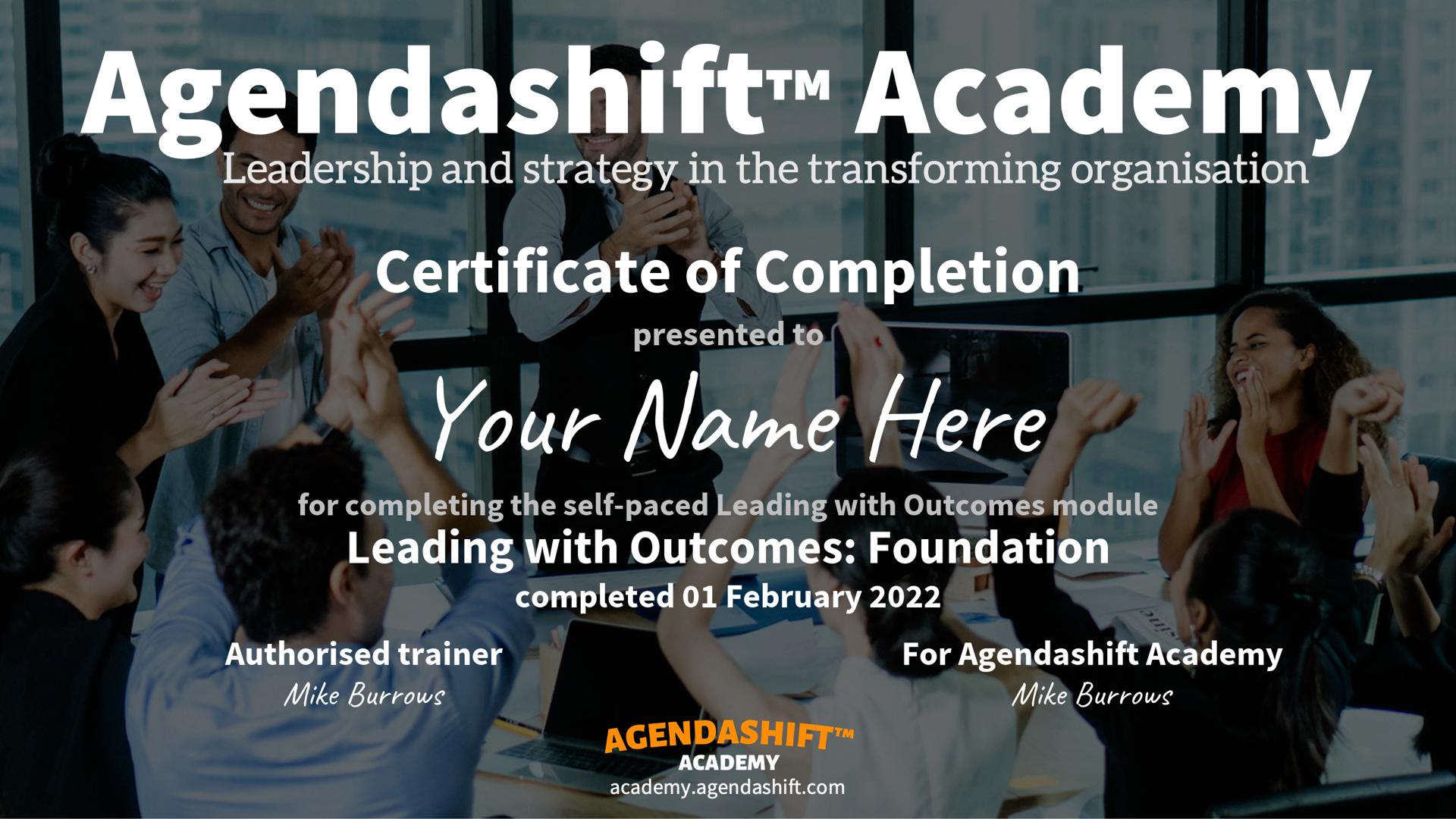 Yearly and monthly subscriptions for individuals and businesses:
And for individual practitioners in leadership, strategy, and change, professional services firms, and businesses with their own internal practices (or looking to develop one):
The Agendashift partner programme
Calling all practioners! Join us in our mission: Helping organisations grow in wholeheartedness – to become less at war with themselves, their obstacles, imbalances, and contradictions identified and owned, value and meaning created through authentic engagement.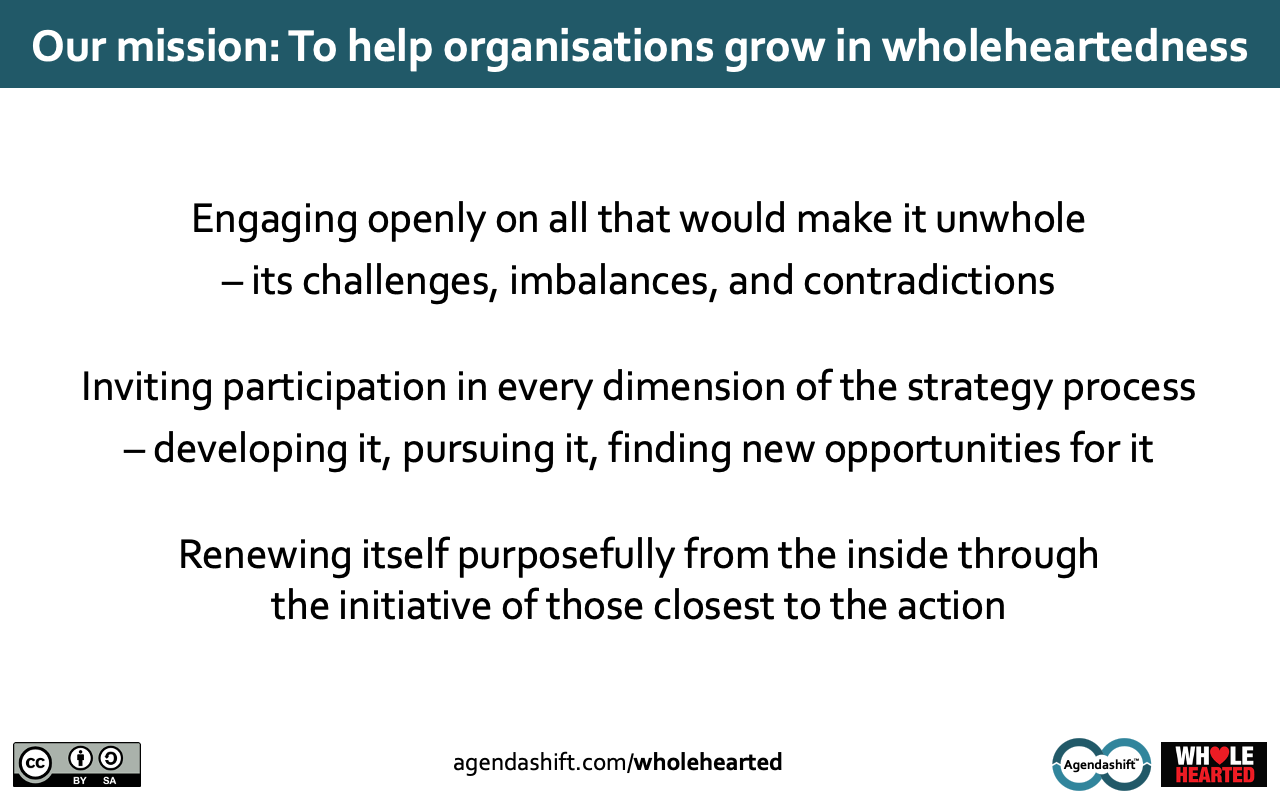 Removing what stands in the way of becoming a Deliberately Adaptive Organisation, business agility at every scale: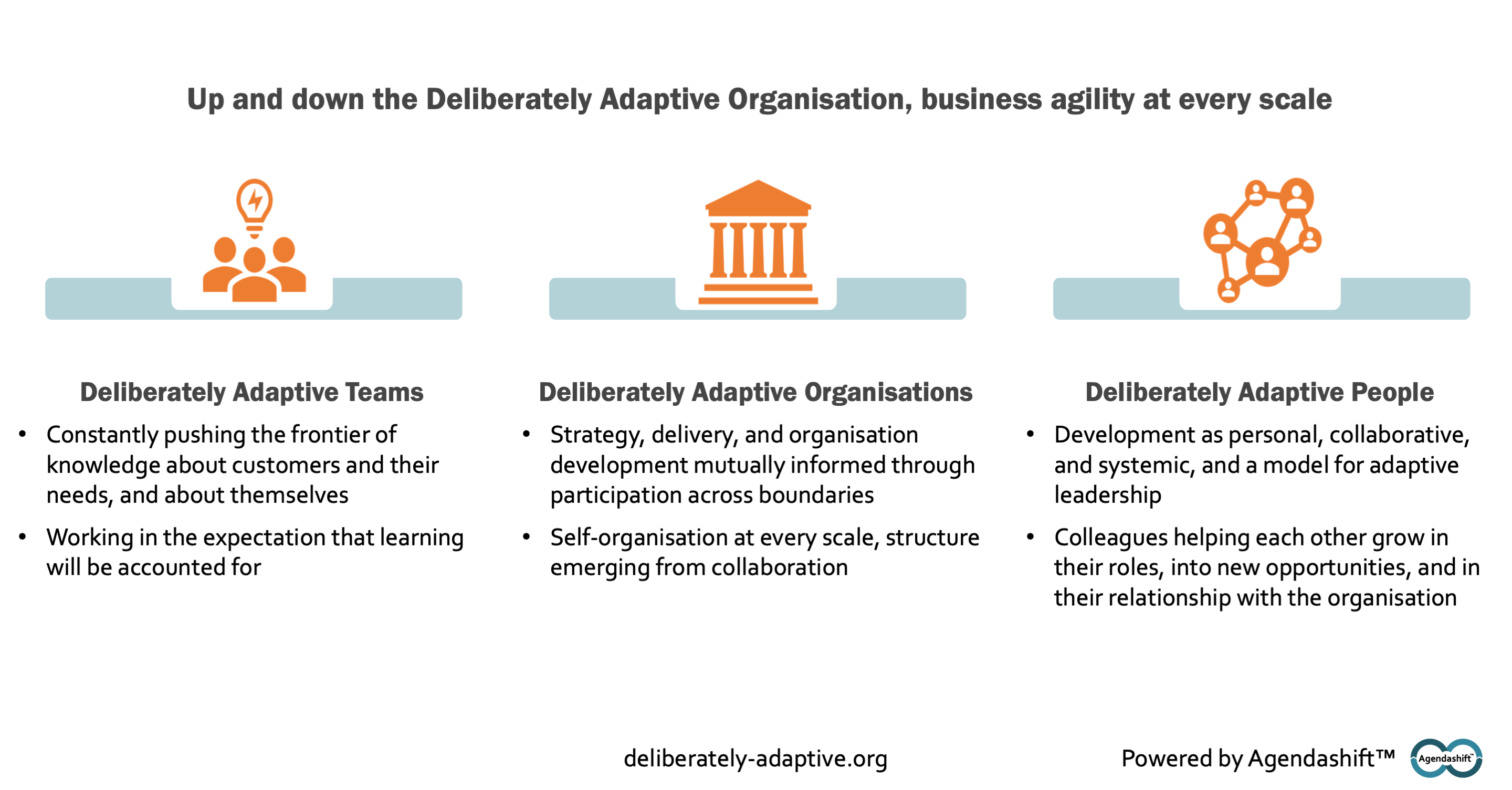 Agendashift partners
Corporate partners:
In our partner directory you'll find dozens of individual practitioners in more than 20 countries worldwide listed. To become a partner yourself, start here:
Free trial
For free, use the mini versions of our assessment tools for use with individuals or small groups. Templates in seven languages.
Framework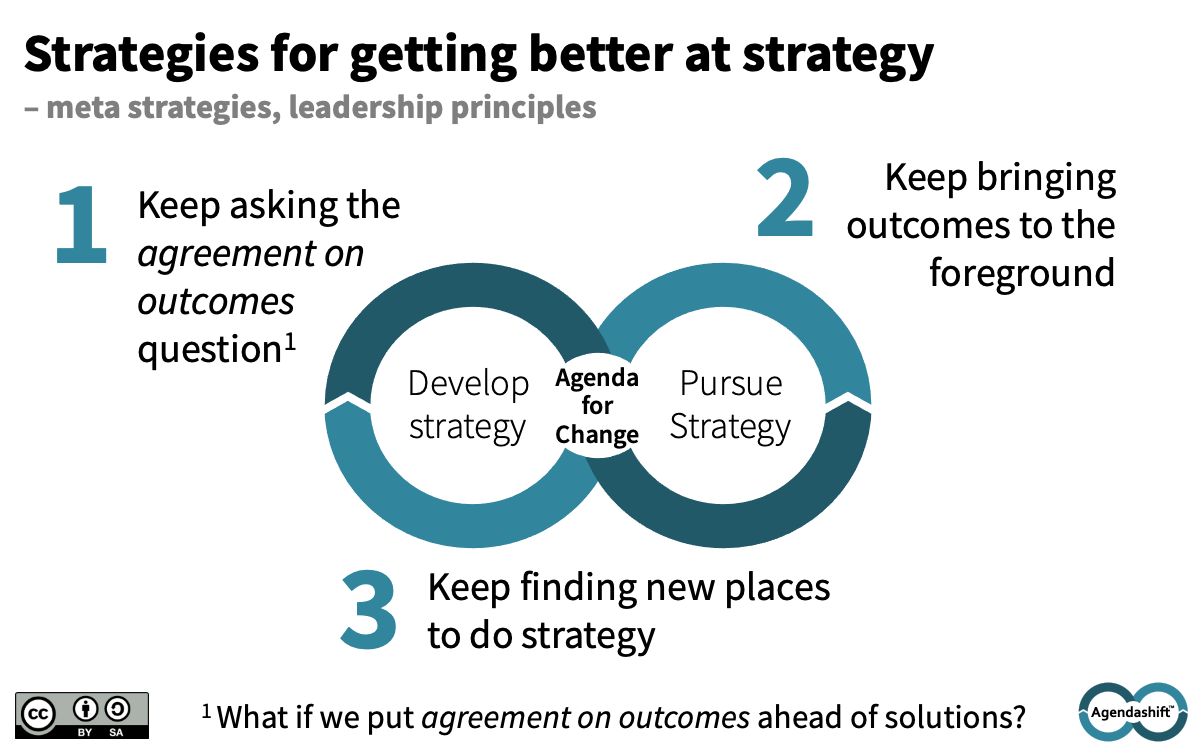 More: Agendashift as framework
Assessments
The Agendashift Delivery Assessment in particular – the one introduced in chapter 2 of the book – is for many people their first experience of Agendashift. Because it sets the tone for what follows, we take it very seriously! Unlike the vast majority of assessment tools – prescriptive, practice-centric, and therefore disappointing and frustrating to their respondents – ours is outcome-oriented and framework-agnostic by design, helping you quickly build agreement on outcomes, a legimate and powerful basis for change.
You can access our assessments in a number of ways:
Free trial
Administer your own team surveys for up to 10 participants per survey with a selection of our 'mini' (18-prompt) edition assessment templates.
Full access
Together with several other benefits, partners have access to the full range of assessment temnplate and may conduct surveys of unlimited size.
About us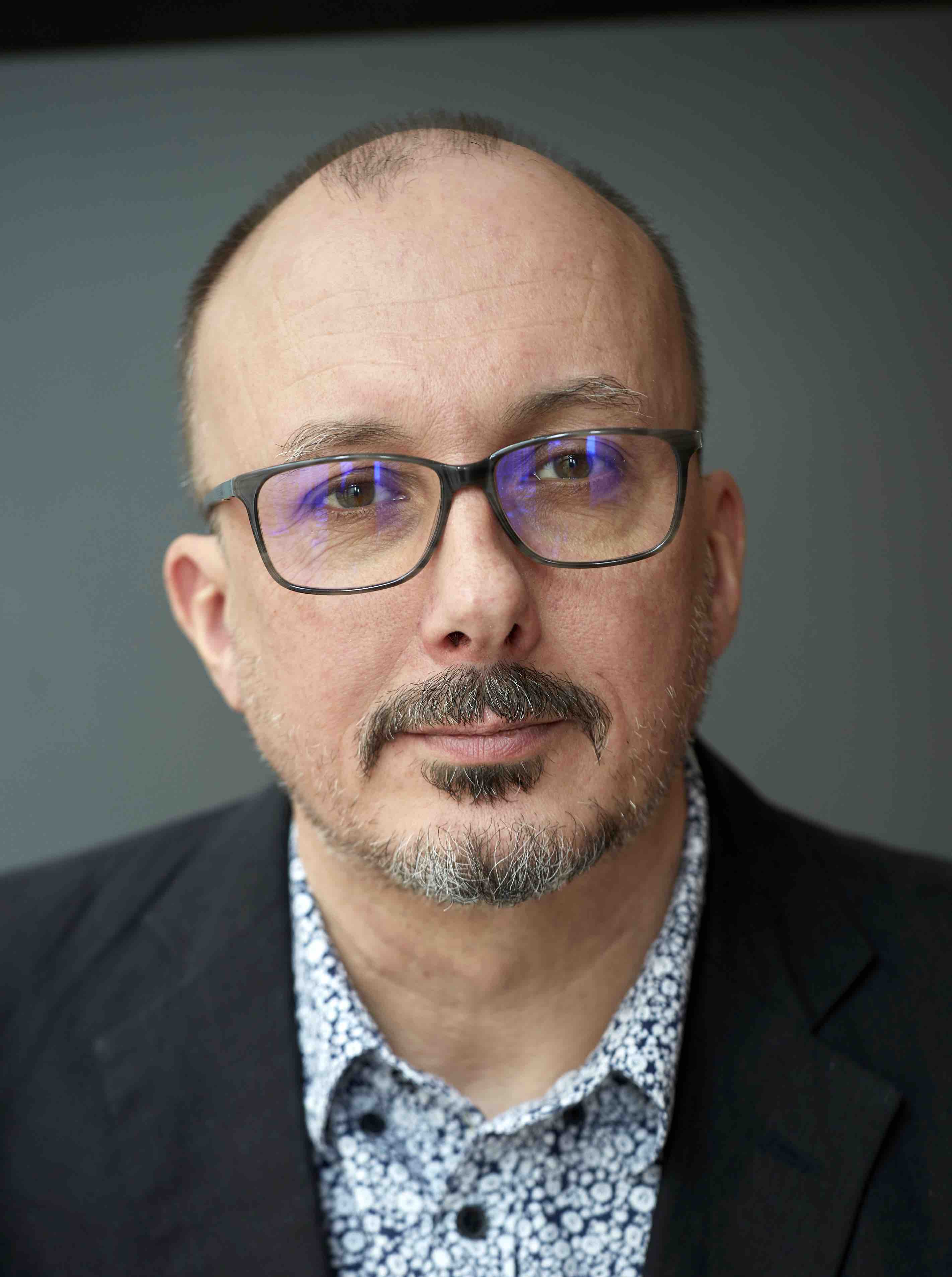 Agendashift™ is brought to you by Positive Incline Ltd, UK-based specialists in Lean, Agile, strategy, and change. Founder Mike Burrows came to prominence in the Lean-Agile community as the orginator of Kanban's values model, out of which came his first book, Kanban from the Inside (2014). His more recent books Agendashift (2nd edition 2021) and Right to Left (2019, audiobook 2020) bring a resolutely needs-based and outcome-oriented perspective to change, transformation, and the Lean-Agile landscape as a whole, contributing meanwhile a number of popular tools, games, and other resources. He works as a consultant, facilitator, and trainer, and as a keynote speaker at events public and private around the world.