About Agendashift™
Outcome-oriented change and continuous transformation
Agendashift is a Lean-Agile engagement model that helps everyone from individual contributors to senior leadership engage with and participate in Lean-Agile change. It has proven effective in organisations large and small, technology-intensive or otherwise – including technology startups, large corporates, non-profits, and government-sector bodies, both local and national.

Building from agreement on outcomes, Agendashift facilitates rapid, experiment-based evolution of process, practice, and organisation. We help you keep your business vision and transformation strategy aligned with and energised by a culture of meaningful participation.
Agendashift is delivered via an online assessment/analytics tool, workshops, and follow-on assistance and technical training as needed. It has been applied both inside and outside of IT and across diverse industries, both technology-centric and otherwise.
For a partial list of change practitioners equipped to use Agendashift, see our partner directory. In additional to these mainly external coaches and consultants, other members of our partner programme also include managers and other internal agents of change.
---
Understanding Agendashift
Agendashift is best understood as an engagement model. As described in the 2018 book Agendashift: outcome-oriented change and continuous transformation, Mike Burrows (New Century Press, 2018), its purpose is threefold:
To help the change agent structure their engagement with their client organisation and its staff
To help the client organisation engage its staff meaningfully in change-related work
To help the transforming parts of the organisation engage constructively with the rest of the organisation, so that both will thrive
That structure comes in the shape of five activities:
Discovery: Establishing a shared sense of direction, identifying needs, ambitions and aspirations as well as shorter-term outcomes
Exploration: With the aid of an assessment, identifying opportunities for change, articulating them as outcomes, choosing appropriate change management approaches
Mapping: Visualising plans and priorities, testing thinking, identifying gaps
Elaboration: Keeping the change process fed with ideas, framing options as hypotheses and developing them as experiments
Operation: The techniques and feedback loops required to sustain change over the long term, change treated as real work
These activities can provide structure to workshops (a number of workshop exercises are described in the book), or to engagements spanning a period of weeks or months. Also, they identify five first-class activities that we would expect to find in some form in any organisation that is deliberate in its pursuit of adaptability over the long term.
Five principles guide Agendashift in its design and application:
Start with needs – get a sense of what's needed, based on an appreciation of where we are now and our ambitions for where we'd like to get to
Agree on outcomes – explore a landscape of obstacles and outcomes, building authentic agreement on outcomes as the basis for change
Keep the agenda for change visible – use visual mapping to organise, prioritise, cross-check, and communicate
Manage options, testing assumptions – generate and select options, frame hypotheses, and develop experiments that will validate or invalidate key assumptions
Organise for clarity of intent, speed of decision-making, and alignment of impact – organise experiments and lines of communication such that:

It is clear to all what is happening and why
Decisions are made quickly by the right people
Individual actions combine to move the organisation in the agreed direction
The correspondencies between principles and activities are shown in the image below. To explore the Agendashift model in more detail, click the image:
The second of those five principles, agree on outcomes, is fundamental. The agreement part can be traced back to Mike's first book Kanban from the Inside (Blue Hole Press, 2014), agreement being the eighth of the nine values in the model that gave rise to that book. Agendashift meanwhile could be described as "outcomes all the way down", dealing as it does with high level organisational goals, the impact of small, safe-to-fail experiments, and a whole spectrum of outcomes in between.
Outcomes are also the means by which Agendashift integrates models as diverse as Lean, Agile, Clean Language, Cynefin, Kanban, Lean Startup, and A3. For example, take Agendashift's True North statement (itself describing a kind of outcome):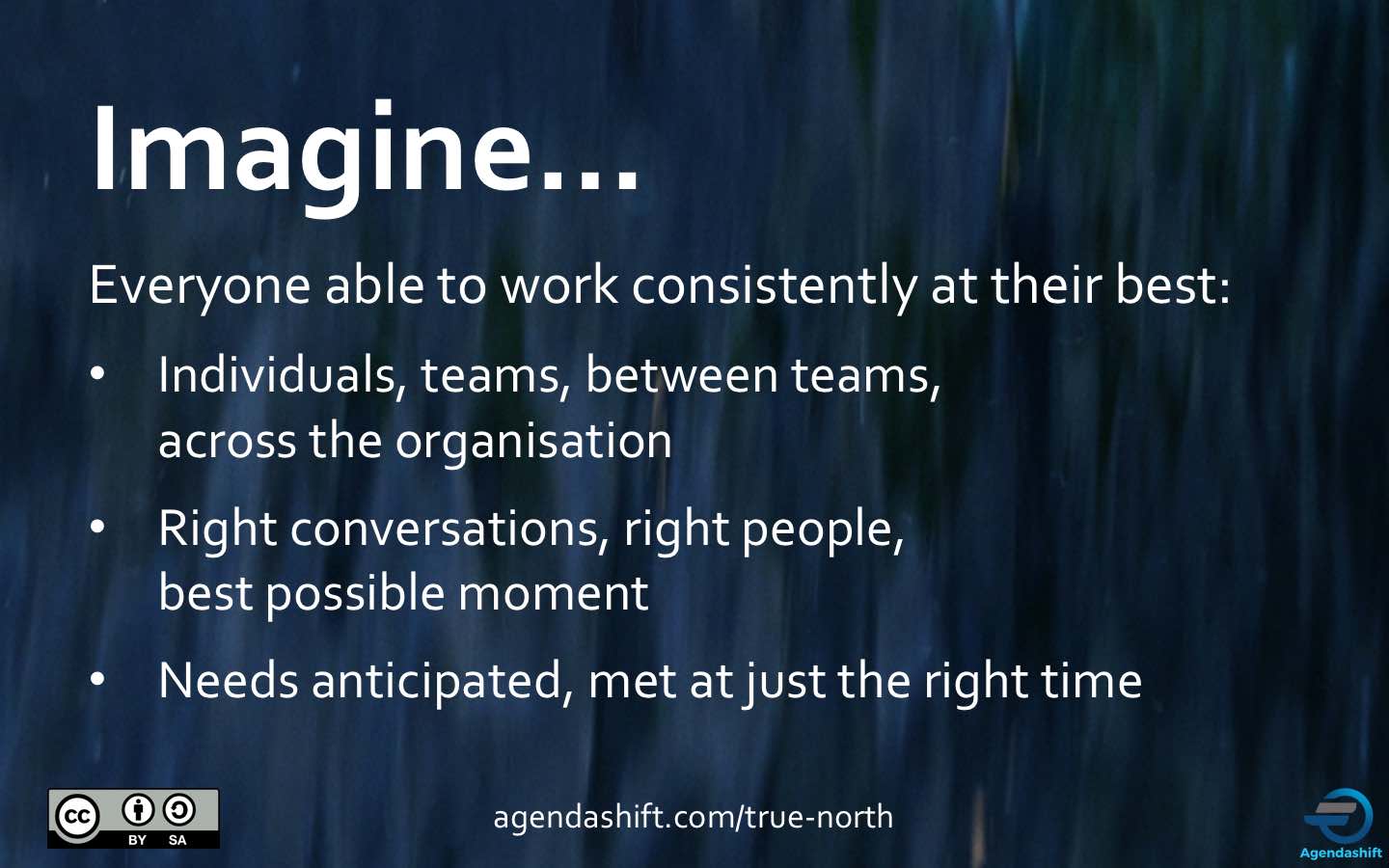 Whilst consciously minimising the use of their jargon, this statement owes much to Lean and Agile. Using the Clean Language-inspired coaching game 15-minute FOTO, we can contextualise it, participants modelling a landscape of organisational obstacles and outcomes that is meaningful to them. The generated outcomes can be treated as the micro-narratives that Cynefin deals in, which in turn guides the application of the hypothesis-driven techniques of Lean Startup and A3.
Lasting transformation depends on engagement at multiple organisational levels, at different levels of detail, and over different time horizons. Agendashift models the kind of change its practitioners seek to facilitate, helping organisations discover for themselves what kind of organisations they want to be. The end result: organisations that are more able to the needs of all those who engage with it.
---
Agendashift™ is copyright © 2015-2018 Positive Incline Ltd. All rights reserved. The Agendashift 'about' page by Mike Burrows of Positive Incline Ltd is licensed under the Creative Commons Attribution-ShareAlike 4.0 International License. To view a copy of this license, visit https://creativecommons.org/licenses/by-sa/4.0/.