About Agendashift™
Needs-based
The old way based on prescribed solutions is the way of pain and disappointment. Needs are both the place to start and the ultimate test of success – because if solutions aren't meeting needs, what's the point?
Outcome-oriented
The positive, humane, and complexity-aware alternative to the imposed rollout: authentic agreement on outcomes as the catalyst for change, the focus for self-organisation, and the driver for innovation.
Continuous
Lasting success comes not from one-off projects with their uncertain results and the near-inevitability of backsliding, but by insititutionalising the practices, behaviours, and accountabilities of continuous change.
Open
Agendashift is built out in the open, with open licensing, by and for a welcoming community of experienced practitioners working at the intersection of Lean, Agile, Organisation Development, and strategy.
---
Whether it's Lean, Agile, Lean-Agile, DevOps, OKR, or a branded framework for process or organisation, one uncomfortable truth prevails: the way the thing is approached matters vastly more than the thing itself. Both to realise their promise and to avoid inflicting lasting harm along the way, you need a modern engagement model – one not based on imposition – and it's why Agendashift exists. Not another rehash of the failed, engagement-destroying change management methods of the last century, but the means to bring the best of what your existing people have to offer in the shaping of a transformation strategy that they can believe in.
Our mission is to build wholehearted organisations – organisations in which people engage on the issues that matter, actively participate in anticipating and meeting needs, and through agreement on outcomes create the conditions for organisation and leadership development.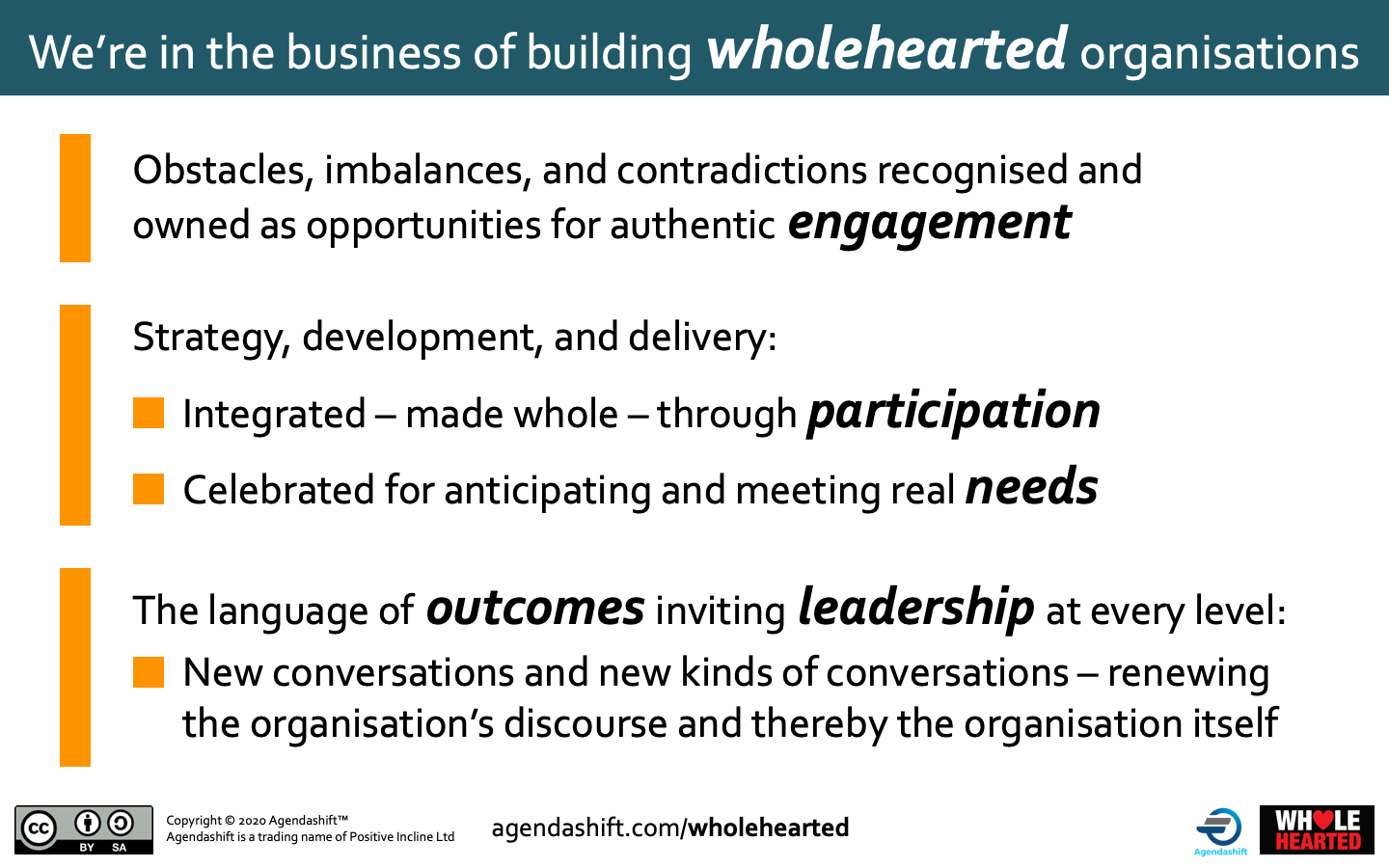 More: Our mission: Wholehearted | Become an Agendashift™ partner | Agendashift™ Assessments
---
Understanding Agendashift
Agendashift is best understood as an Engagement Model. As described in the 2018 book Agendashift: Outcome-oriented change and continuous transformation, an engagement model must do three things:
Help the change agent structure their engagement with their client organisation and its staff
Help the client organisation engage its staff meaningfully in change-related work
Help the transforming parts of the organisation engage constructively with the rest of the organisation, so that both will thrive
In Agendashift, that structure comes in the shape of five activities:
These activities can provide structure to workshops (a number of workshop exercises are described in the book and supported in our materials), or to engagements spanning a period of weeks or months. Also, they identify five first-class activities that we would expect to find in some form in any organisation that is deliberate in its pursuit of innovation and adaptability over the long term.
Five principles guide Agendashift in its design and application:
Start with needs – get a sense of what's needed, based on an appreciation of where we are now and our ambitions for where we'd like to get to
Agree on outcomes – explore a landscape of obstacles and outcomes, building authentic agreement on outcomes as the basis for change
Keep the agenda for change visible – use visual mapping to organise, prioritise, cross-check, and communicate
Manage options, testing assumptions – generate and select options, frame hypotheses, and develop experiments that will validate or invalidate key assumptions
Organise for clarity of intent, speed of decision-making, and alignment of impact – organise experiments and lines of communication such that:

It is clear to all what is happening and why
Decisions are made quickly by the right people
Individual actions combine to move the organisation in the agreed direction
The correspondencies between principles and activities are shown in the image below. To explore the Agendashift model in more detail, click the image:
The second of those five principles, agree on outcomes, is fundamental, authentic agreement on outcomes providing a legitimate and powerful basis for change. This principle can be traced back to Mike's first book Kanban from the Inside (Blue Hole Press, 2014), agreement being the eighth of the nine values in the model that underpinned that book. Agendashift meanwhile could be described as "outcomes all the way down", dealing as it does with high level organisational goals, the impact of small, safe-to-fail experiments, and a whole spectrum of outcomes in between.
Transformation strategy workshops
Outcomes are the means by which Agendashift's transformation strategy workshops integrates models and frameworks as diverse as Lean, Agile, Clean Language, Cynefin, Kanban, Lean Startup, and A3. Take, for example, Agendashift's True North statement (itself describing a kind of outcome):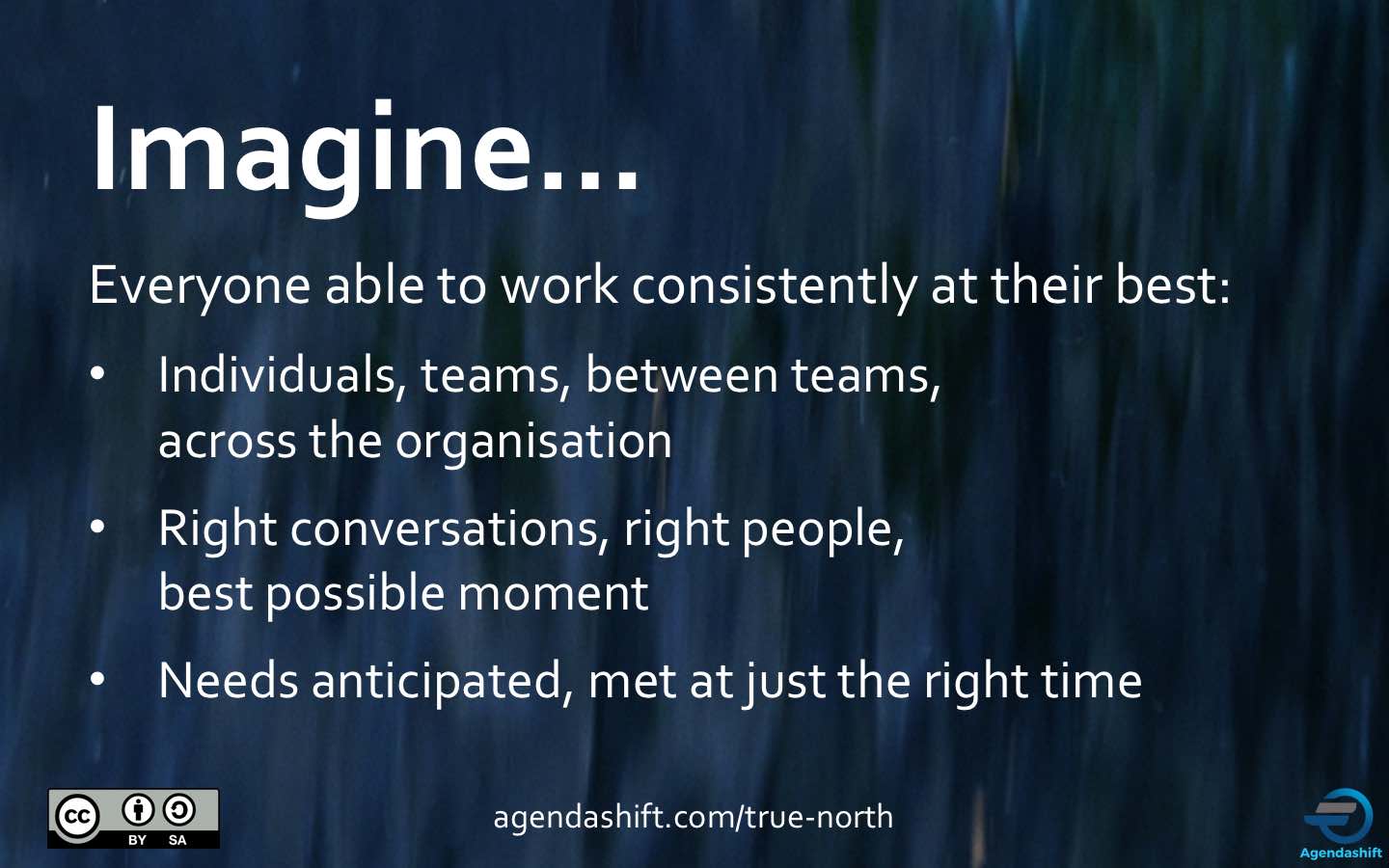 Whilst consciously minimising the use of their jargon, this generative image (to use some Organisation Development jargon) owes much to Lean and Agile. In our workshops, and using our Clean Language-inspired coaching game 15-minute FOTO, we contextualise it, participants modelling a landscape of organisational obstacles and outcomes that is meaningful to them in their current situation. The generated outcomes can be treated as the micro-narratives that Cynefin deals in, which in turn guides the application of the hypothesis-driven techniques of Lean Startup and A3.
More concrete obstacles and outcomes are identified through the use of the Agendashift delivery assessment. Instead of a single and aspirational True North, the assessment comprises 40+ prompts organised by the six values of transparency, balance, collaboration, customer focus, flow, and leadership.
Variants of the generic transformation strategy workshop include:
Become an Agendashift™ partner to access the slideware and other tools required to deliver these workshops. With the exception of the Applied workshop, they are also offered publicly.
More: Agendashift™ workshops | True North | Agendashift™ Assessments | Events calendar | Become an Agendashift™ partner
Outside-in strategy workshops
The transformation strategy workshops are focussed on ways of working and related aspects of organisation design. By virtue of the True North and the assessments, their Lean-Agile agenda is undeniable, even if it is carefully subtle and implicit. Replacing these elements with the more neutral Outside-in Strategy Review (OI-SR) template (below) gives rise to a second family of workshops.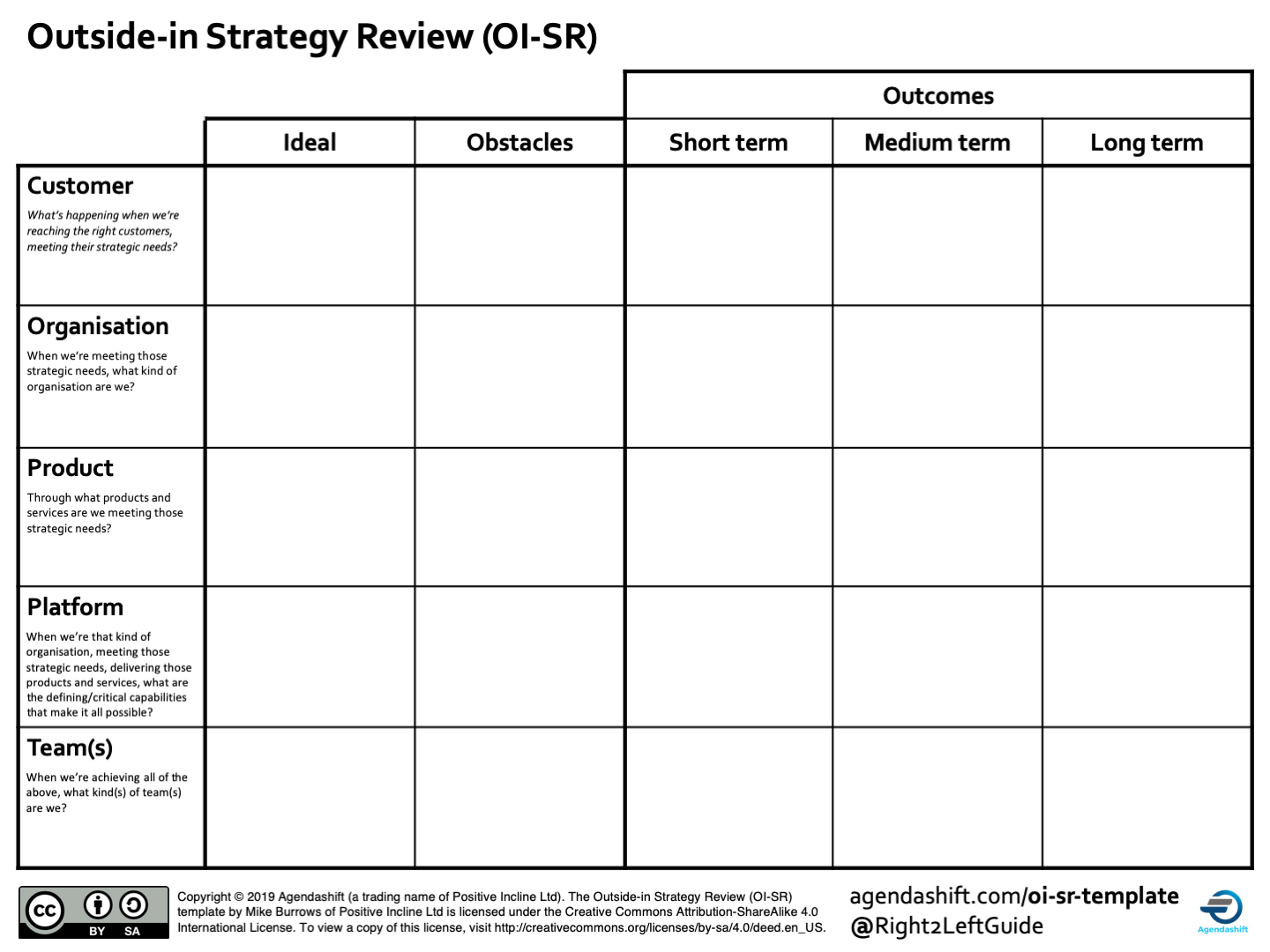 The outside-in strategy review is described in chapter 5 of Right to Left: The digital leader's guide to Lean and Agile (2019). Variants of this workshop designed for both public and private use include:
These too are available via the partner programme.
More: Agendashift™ workshops | Outside-in Strategy Review (OI-SR) template | Become an Agendashift™ partner
---
Agendashift™ is copyright © 2015-2020 Positive Incline Ltd. All rights reserved. The Agendashift About page by Mike Burrows of Positive Incline Ltd is licensed under the Creative Commons Attribution-ShareAlike 4.0 International License. To view a copy of this license, visit https://creativecommons.org/licenses/by-sa/4.0/.

About us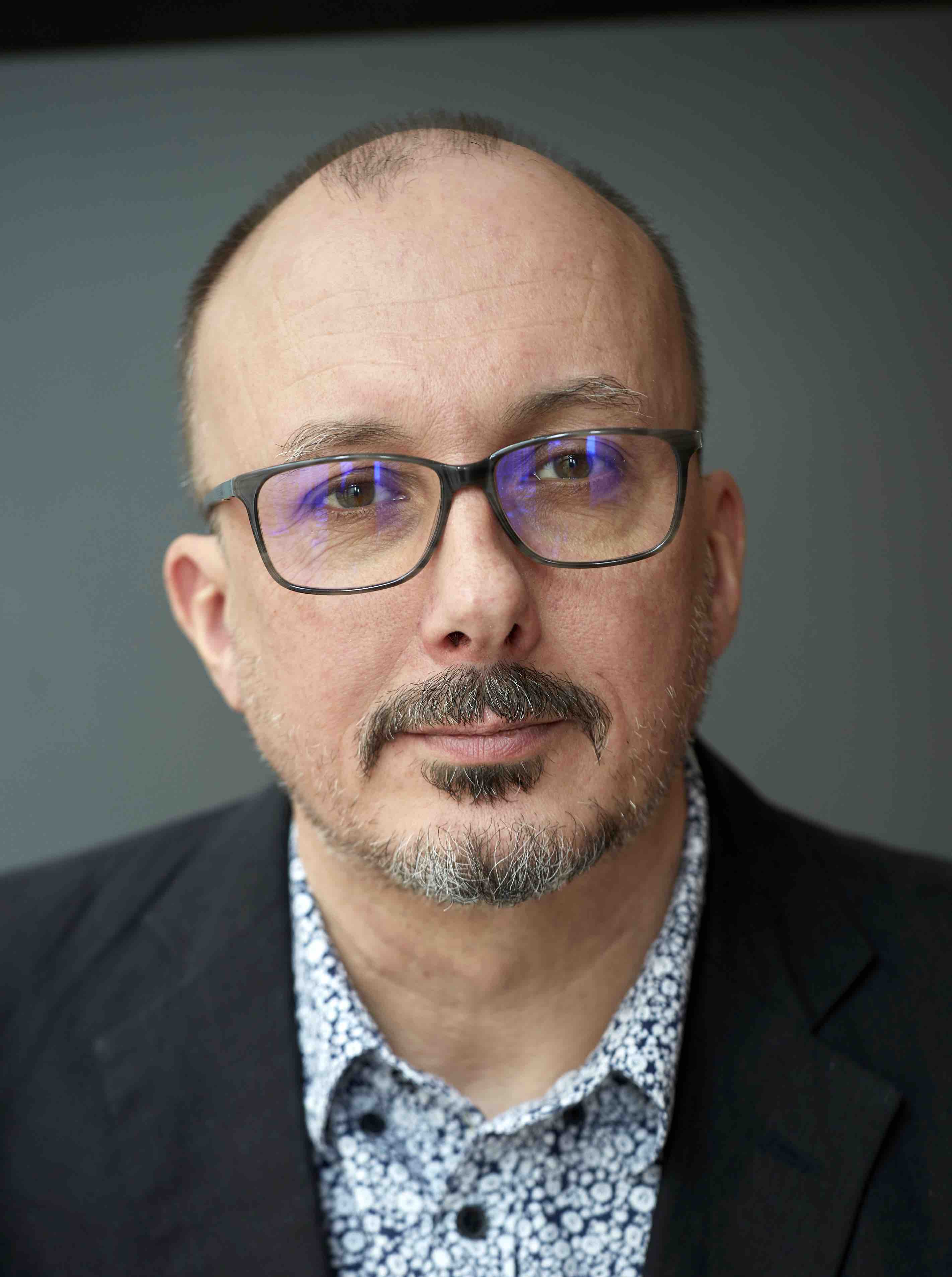 Agendashift™ is brought to you by Positive Incline Ltd, UK-based specialists in Lean and Agile. Founder Mike Burrows is known to the Agile and Lean-Agile communities as the author of Kanban from the Inside (2014) and Agendashift (2018), the creator of the Featureban and Changeban simulation games, a keynote speaker at conferences around the world, and as a consultant, coach, and trainer. His new book Right to Left: The digital leader's guide to Lean and Agile was published August 15th 2019.