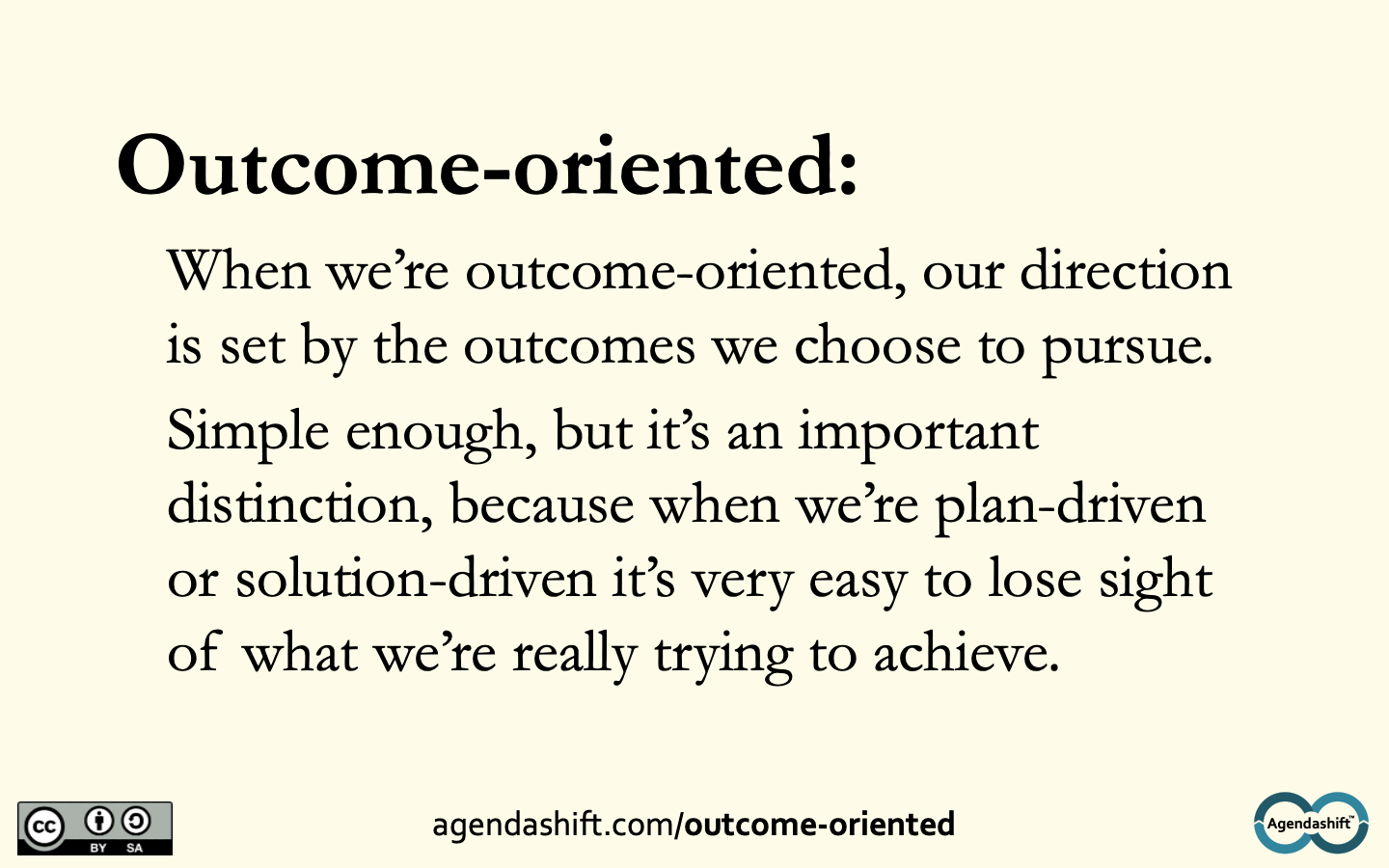 Outcomes all the way down
Agendashift deals coherently, humanely, and strategically with outcomes – everything from the most aspirational of goals to the impact of the smallest experiment. These outcomes are agreed through participation, the right people in the room agreeing authentically on outcomes relevant and meaningful to them, articulating them in their own words, organising them into strategy.
Approached this way, outcomes give direction, they give people something to organise around, they provide measures of success, and they give focus to innovation. Putting them first creates the space for solutions to emerge from the people closest to the problem.
Because we enjoy their broad range, we prefer not to define the term outcome too tightly. Instead, some helpful starting points:
Someone's need met (see our definition of done)
A story's happy ending
The way the world changed for someone
Shared stories – both real and imagined – help to connect everyday work to mission, purpose, and strategy. That's what makes outcomes so powerful!
Developing and pursuing strategy, leading with outcomes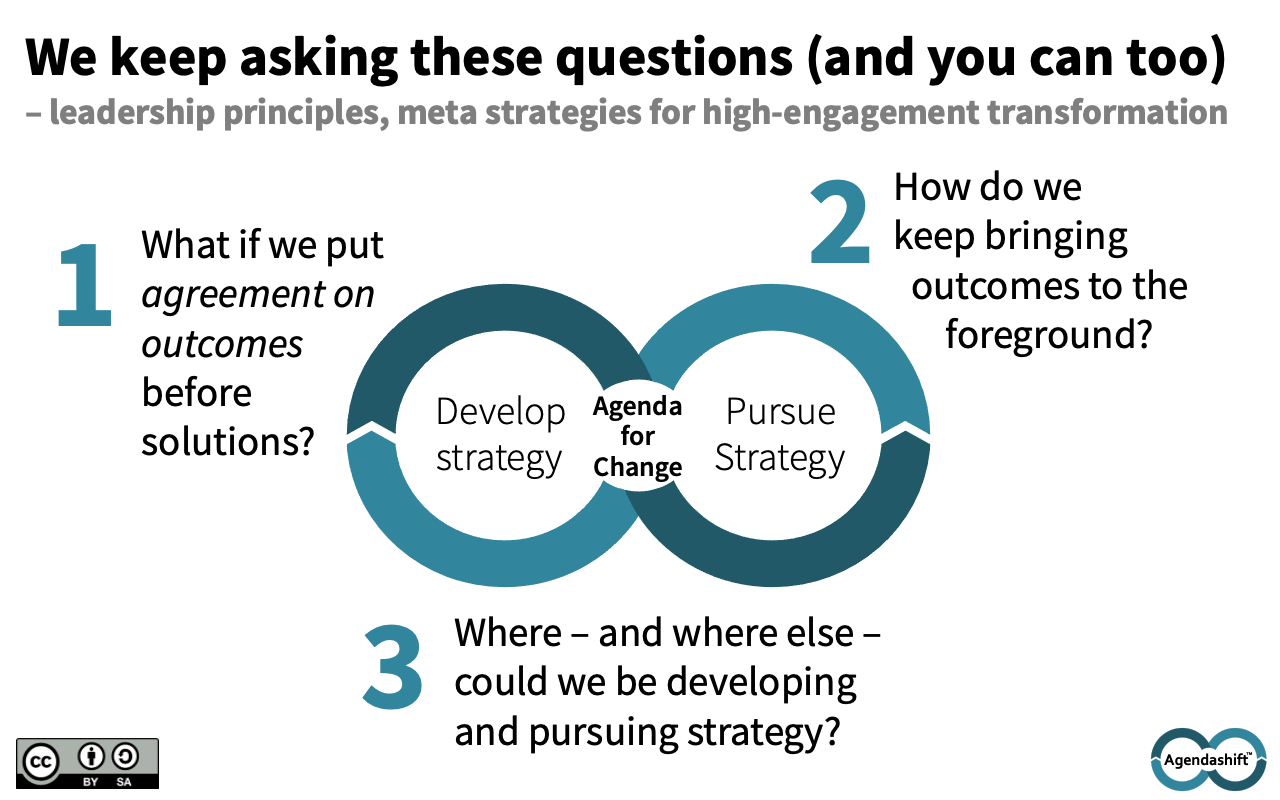 It's not enough just to agree on outcomes; for that agreement to make a lasting difference, it's important to keep outcomes in the foreground. Fail to do that, and it's easy to be distracted by shiny solutions or mere activity. Moreover, leaders in transforming organisations and those that support them should be alert to the potential for these conversations and the resulting action to happen in new places, engaging with the organisation in all of its complexity.
Agendashift serves two closely-related purposes:
As an engagement model for change practitioners – coaches, facilitators, etc
As a model for "leaders in transforming organisations", strapline for the Agendashift™ Academy, home of the Leading with Outcomes leadership development curriculum
For both purposes, Agendashift can be summarised as a system of three strategies, two of which are explicitly about outcomes:
Keep putting agreement on outcomes before solutions
Keep bringing outcomes to the foreground
Keep finding new places to develop and pursue strategy
Supporting to the three strategies, three patterns:
Right-to-Left Strategy Deployment (or just Right to Left)
These faciliate the integration of tools and practices drawn from a wide and growing range of sources.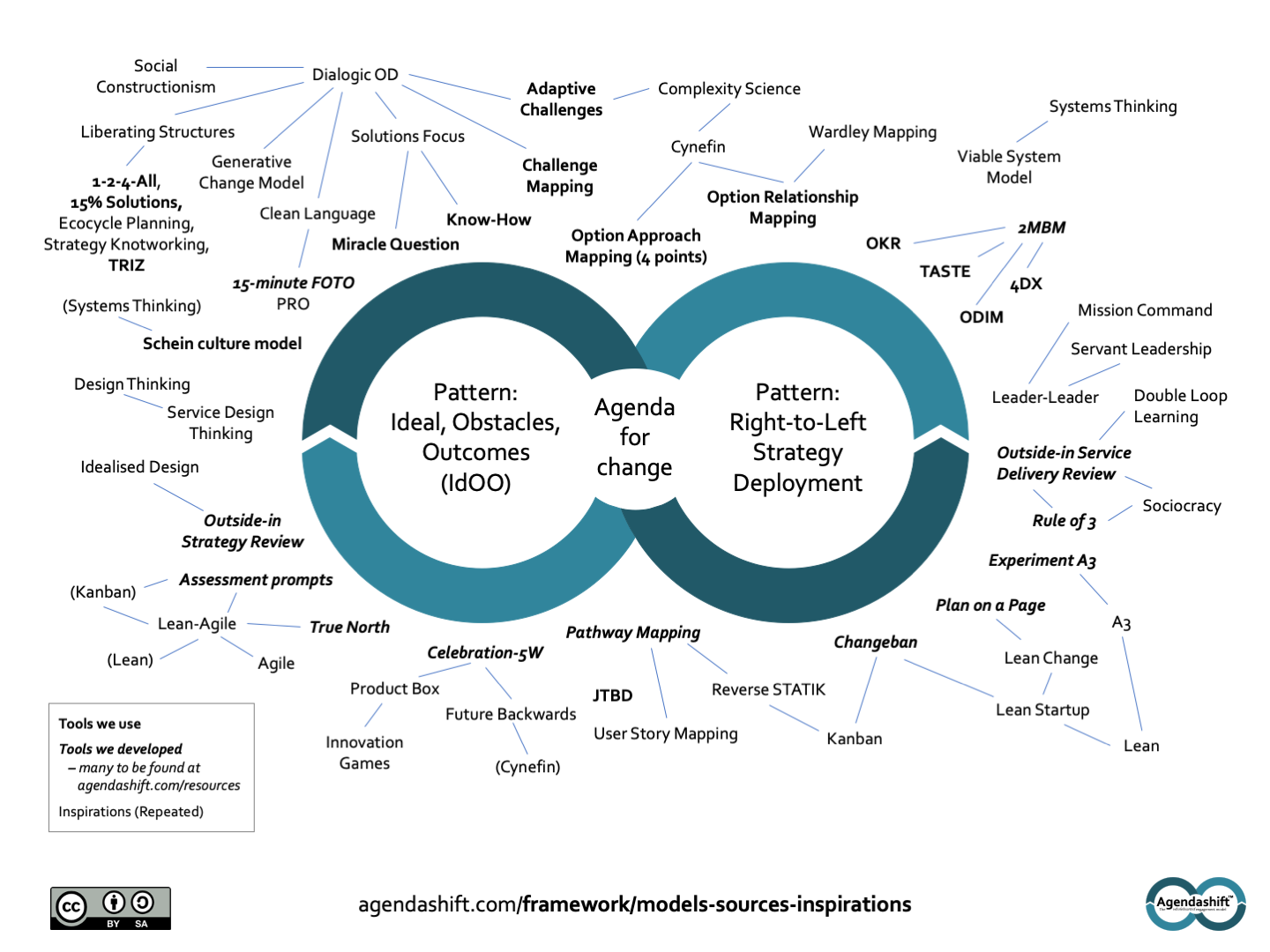 About us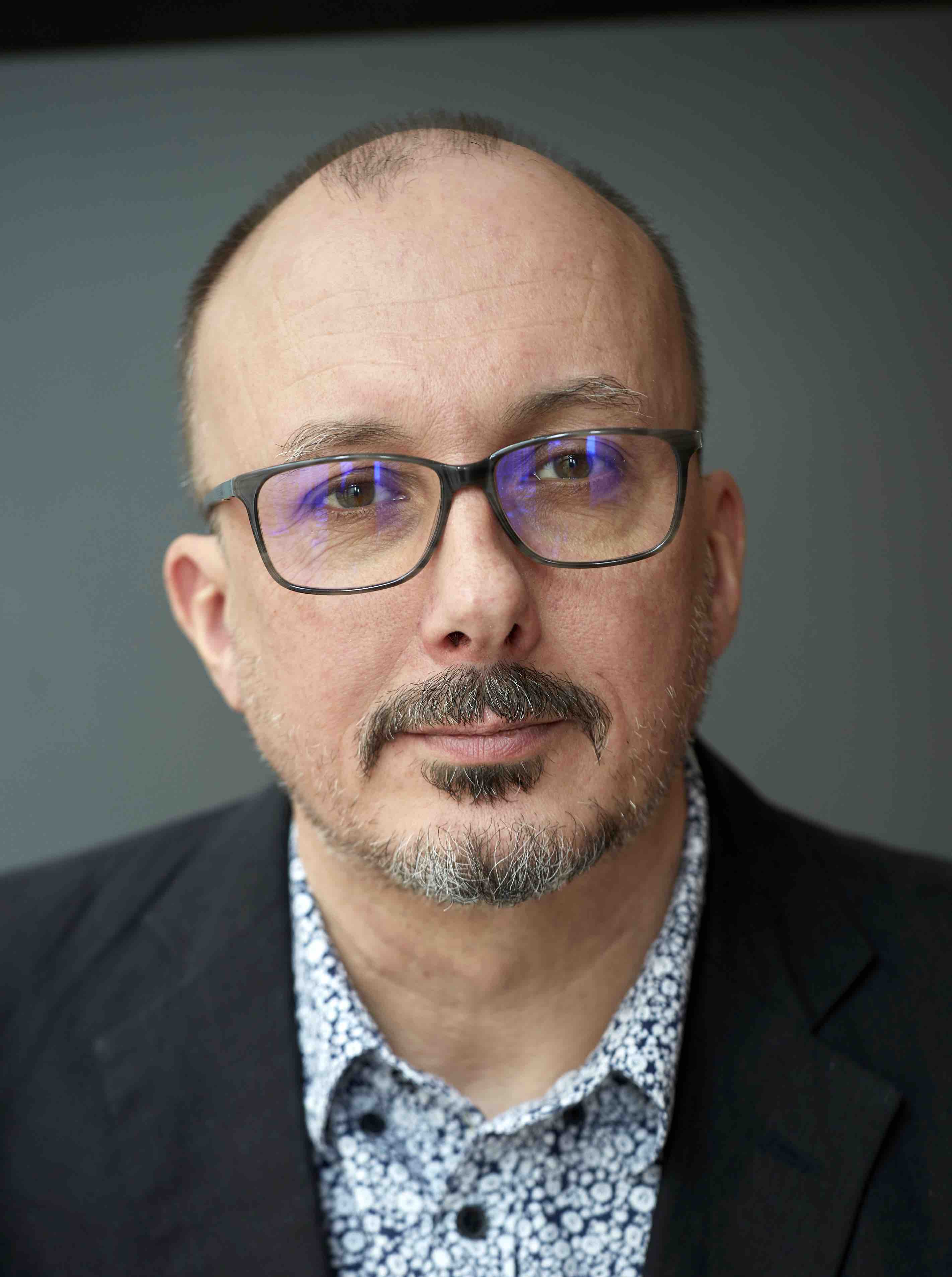 Agendashift™ is brought to you by Agendashift Ltd (formerly Positive Incline Ltd), UK-based specialists in leadership, engagement, strategy, and change. Founder Mike Burrows came to prominence in the Lean-Agile community as the originator of Kanban's values model, out of which came his first book, Kanban from the Inside (2014). His more recent books Agendashift (2nd edition 2021) and Right to Left (2019, audiobook 2020) bring a resolutely needs-based and outcome-oriented perspective to change, transformation, and the Lean-Agile landscape as a whole, contributing meanwhile a number of popular tools, games, and other resources. He works as a consultant, facilitator, and trainer, and as a keynote speaker at events public and private around the world.