Resources: Right to Left: The digital leader's guide to Lean and Agile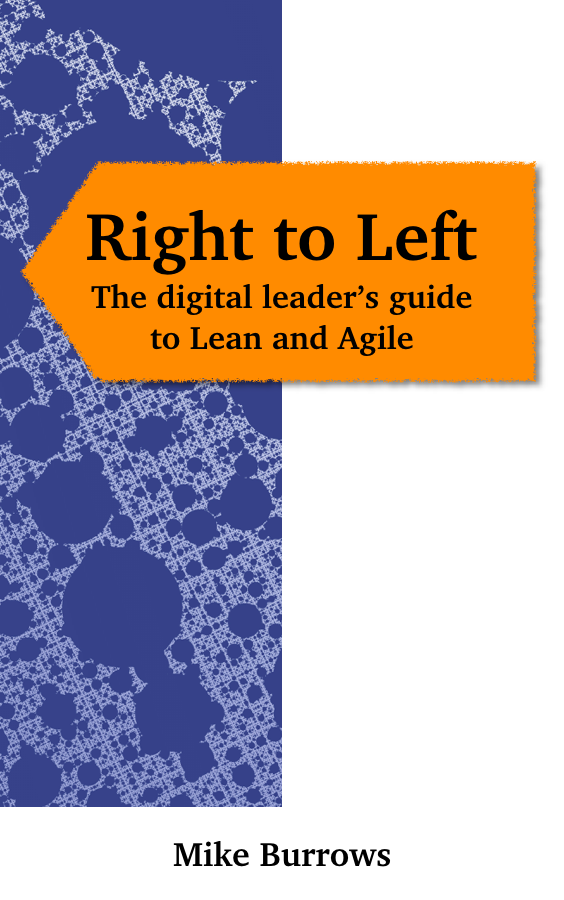 Due midsummer 2019, Right to Left will be the third book by Agendashift founder Mike Burrows, doing for Lean and Agile in digital delivery what his 2018 book Agendashift did for change and transformation.
Are you tired of Agile introductions and actual Agile implementations that start "on the left" with projects and backlogs and work their way slowly rightwards to where the long-suffering customer waits patiently for something of value actually to happen? Well so am I, and I'm doing something about it.
Tone-wise, it will be "a book you'll want to give your manager and hope they'll want to pass on to theirs" – less practitioner-focussed than my first two books, but still plenty for the expert to enjoy too.
Chapter titles may change, but here's an brief overview:
Right to left in the material world – introducing Lean
Right to left in the digital space – introducing Agile
A right-to-left tour of the Lean-Agile landscape – frameworks as patterns to be combined
Viable scaling – Lean and Agile in organisational context; the scaling frameworks; engagement models
Outside in, towards the wholehearted organisation – strategy, capability, metrics, and large-scale feedback loops
Upside down, inverting the pyramid – leadership and the supportive organisation
For the latest updates, follow us on Twitter, join the #right-to-left channel in the Agendashift Slack and check out blog posts tagged right-to-left. These posts in particular:
Drop me a quick note (even if only to wish me luck) and subscribe for updates:
I understand that I will be joining the Agendashift mailing list
---
Related