Resources: Outside-in Strategy Review (OI-SR) template
The OI-SR template as described in chapter 5 of the 2019 book Right to Left: The digital leader's guide to Lean and Agile, put in context in the 2021 2nd edition of Agendashift: Outcome-oriented change and continuous transformation, and featured in our cheat sheet. It released under a Creative Commons CC-BY-SA license; translations and other adaptations welcome!
This template is the inspiration to our Outside-in strategy workshops: the flagship Wholehearted:OKR, the shorter Impact! workshop, and the generic Agendashift Outside-in Strategy Review (OI-SR). Slideware for all three is included under the Agendashift partner programme.
The template's vertical axis represents the outside-in journey from the customer inwards, with a prompt in the form of a question for each of five layers (see below). Its horizontal axis represents the Ideal, Obstacles, Outcomes (IdOO) pattern, the outcomes organised into three time horizons in the manner of the Plan on a Page included with the resources for 15-minute FOTO.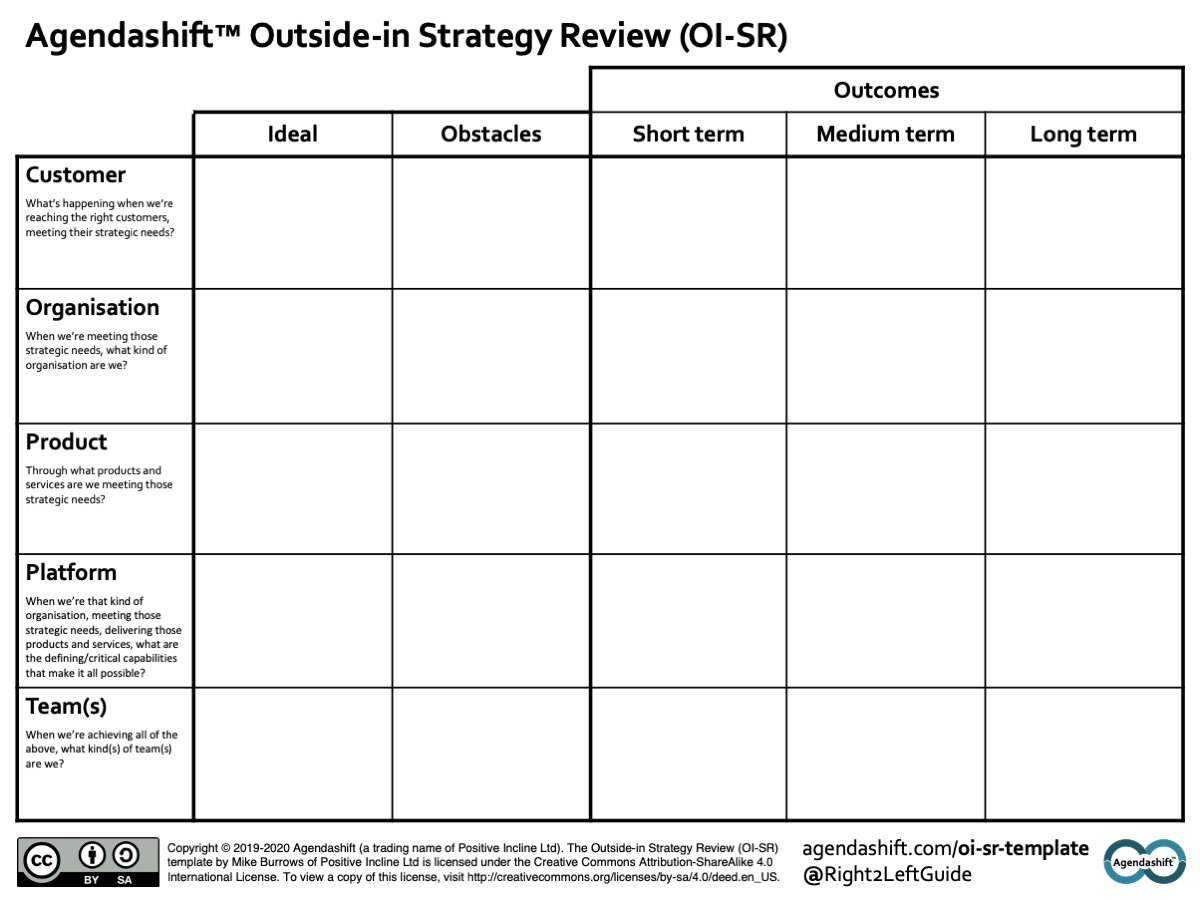 The 5 layers and the outside-in questions
Customer: What's happening when we're reaching the right customers, meeting their strategic needs1?
Organisation: When we're meeting those strategic needs, what kind of organisation are we?
Product: Through what products and services are we meeting those strategic needs?
Platform: When we're that kind of organisation, meeting those strategic needs, delivering those products and services, what are the defining/critical capabilities that make it all possible?
Team(s): When we're achieving all of the above, what kind(s) of team(s) are we?

1strategic needs: Their needs, our strategy

Source: Right to Left, chapter 5
The questions are non-prescriptive by design, making as few assumptions as possible. Each question builds on its predecessors, supporting participants in a process of model building. Also by design, the layers, the relationships between them, and their respective questions leave room for some careful (non-prescriptive) unpacking by the facilitator.
The Outside-in Strategy Readiness Assessment
Developed for the Agendashift Academy module Outside-in Strategy: positioned for success, this is a short (15-prompt) assessment tool, 3 prompts for each of the abovementioned 5 layers.
Try it here:
---
Agendashift™ is copyright © 2015-2022 Positive Incline Ltd. All rights reserved. The page Outside-in Strategy Review (OI-SR) template by Mike Burrows of Positive Incline Ltd is licensed under the Creative Commons Attribution-ShareAlike 4.0 International License. To view a copy of this license, visit https://creativecommons.org/licenses/by-sa/4.0/.

Source text maintained at github.com/asplake/agendashift-open/tree/master/resources/oi-sr-template.md (github.com)
For materials (or simply to join the Agendashift mailing list), just ask:
I understand that I will be joining the Agendashift mailing list also
---
Related
About us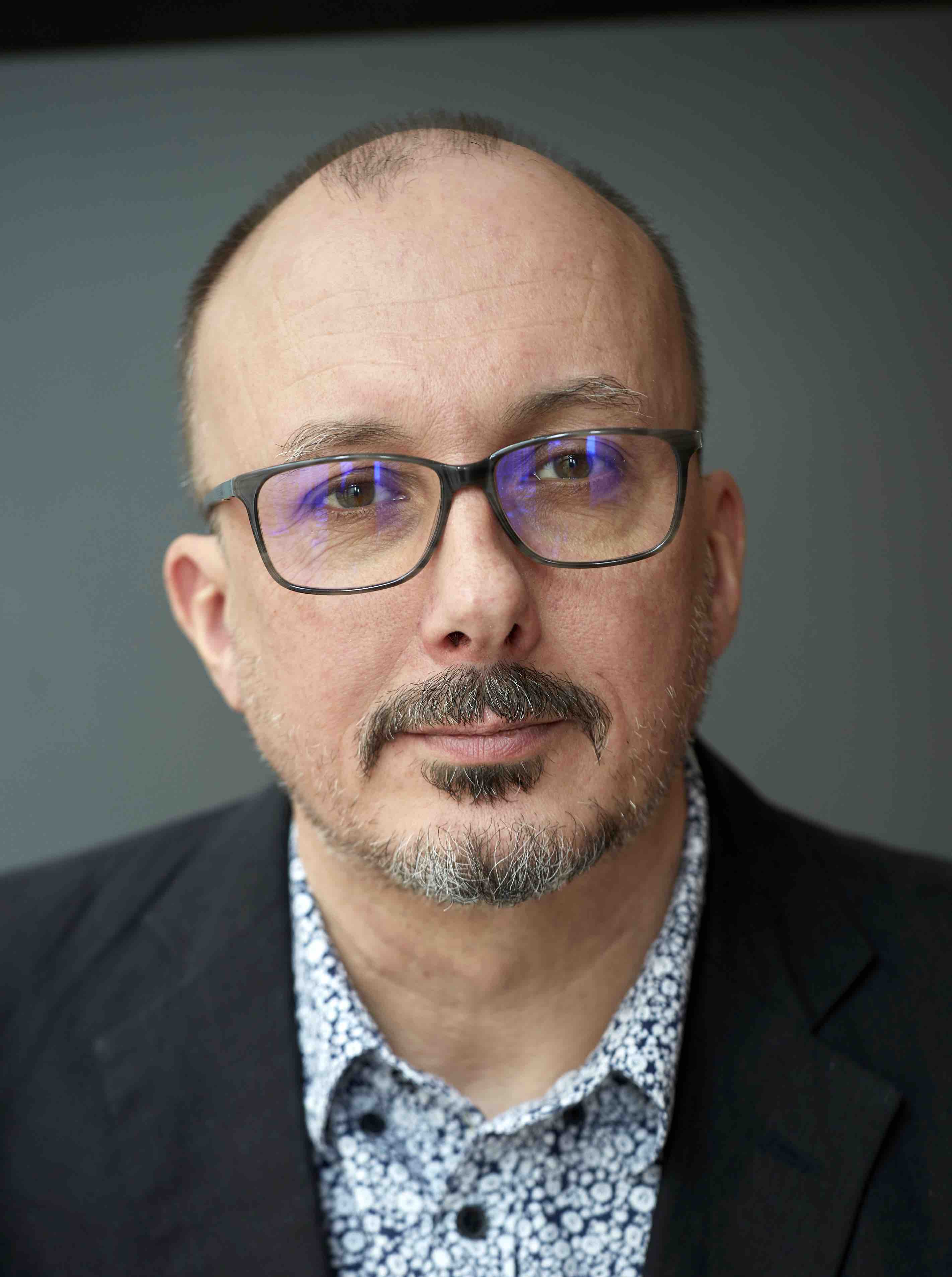 Agendashift™ is brought to you by Positive Incline Ltd, UK-based specialists in Lean, Agile, strategy, and change. Founder Mike Burrows came to prominence in the Lean-Agile community as the orginator of Kanban's values model, out of which came his first book, Kanban from the Inside (2014). His more recent books Agendashift (2nd edition 2021) and Right to Left (2019, audiobook 2020) bring a resolutely needs-based and outcome-oriented perspective to change, transformation, and the Lean-Agile landscape as a whole, contributing meanwhile a number of popular tools, games, and other resources. He works as a consultant, facilitator, and trainer, and as a keynote speaker at events public and private around the world.