Workshops: Learning the Language of Outcomes
Welcome to this short hands-on introduction to Agendashift, the wholehearted engagement model.
Engagement models have just three jobs to do:
Give structure to the work of change agents – people like you, wanting to see some strategic kind of change come to life
Help staff to engage meaningfully in the process
Keep the organisation engaged as it changes, its different parts at different speeds
Sadly, disengagement is the more likely result of conventional approaches to change when applied in complex environments – your organisation, for example. No wonder that so many change initiatives fail!
Resolutely outcome-oriented, strategic in perspective
Agendashift offers a highly practical alternative to those embarrassingly linear models of solution-driven change: outcome orientation. With us, it's outcomes all the way down: everything from the most aspirational of goals to the impact of a small experiment is an outcome. Crucially, outcomes precede solutions: authentic agreement on outcomes is the powerful enabler, options generated on a just-in-time basis, prioritised to advance a strategy that develops through participation.
We're in the business of building wholehearted organisations
Not only our stated mission and long-term vision, it can be your experience right away:
People engaging on the issues that matter – powerful tools uncovering the obstacles, imbalances, inefficiencies, and contradictions that get in the way
Diversity in participation and richness in response
Outcomes inviting leadership – and vice versa – meaning created through new conversations and new kinds of conversations, both the enabler and the evidence of fundamental change
Learning the Language of Outcomes
This workshop is an opportunity to experience Agendashift's Discovery and Exploration activities (chapters 1 & 2 of the book) in the form of a highly immersive online workshop. It is for coaches, consultants, and managers wishing to develop their coaching and leadership skills in the areas of enquiry, facilitation, and change leadership.
The two 2-hour sessions of this workshop will give you plenty of opportunity to practice the language of outcomes – conversations that explore needs and identify key outcomes – essential whenever and wherever you wish to encourage collaboration, self-organisation, and innovation. You will get practical hands-on experience with some exciting open source tools, including our popular kickoff exercise Celebration-5W and our signature coaching game, the Clean Language-inspired 15-minute FOTO. Additionally, the Agendashift delivery assessment is set as prework for all participants a week or so prior to the workshop.
1. Discovery: Describing where we'd like to get to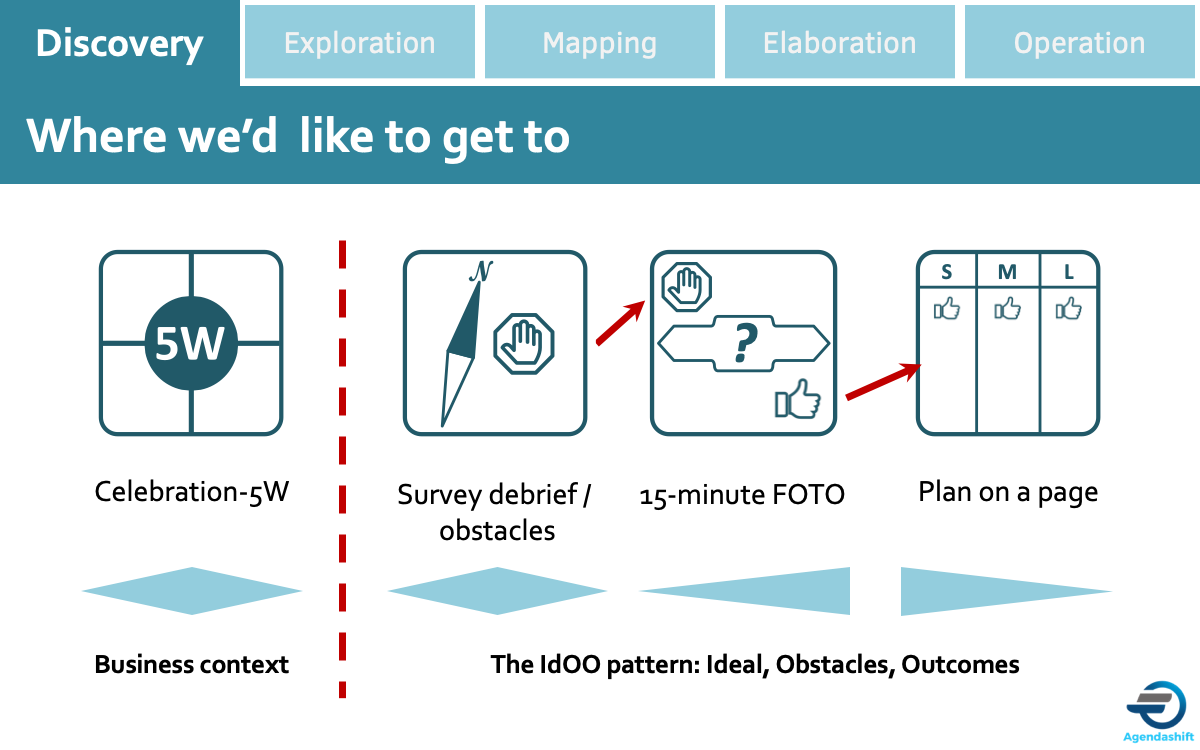 Establishing organisational context and high-level objectives, obstacles, and outcomes using these exercises:
Discovery provides a great example of the generative pattern Ideal, Obstacles, Outcomes (Idoo).
2. Exploration: Prospecting for opportunities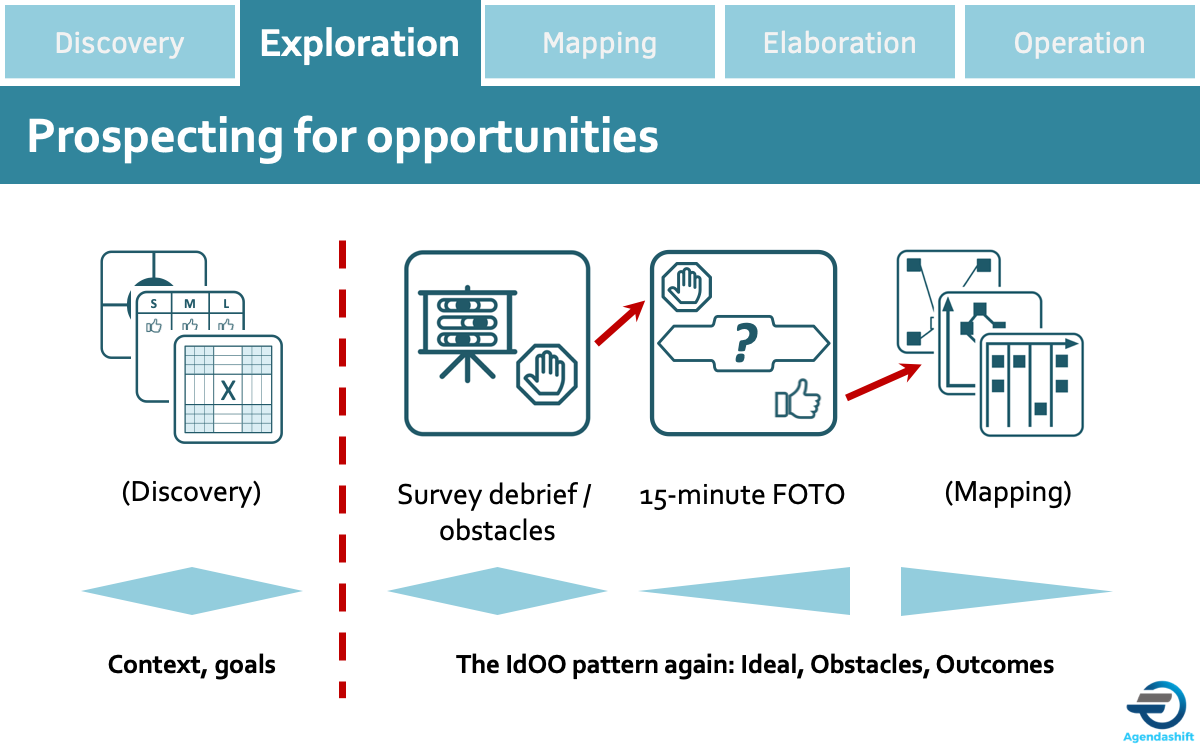 The opportunity to practice skills acquired in Discovery and to reinforce the IdOO pattern:
Both to provide input to this session and to set the tone for the workshop overall, the Agendashift delivery assessment is set in advance as prework.
---
Agendashift™ is copyright © 2015-2020 Positive Incline Ltd. All rights reserved. The page Learning the Language of Outcomes by Mike Burrows of Positive Incline Ltd is licensed under the Creative Commons Attribution-ShareAlike 4.0 International License. To view a copy of this license, visit https://creativecommons.org/licenses/by-sa/4.0/.

Source text maintained at github.com/asplake/agendashift-open/tree/master/workshops/learning-the-language-of-outcomes.md (github.com)
For image source files (or simply to join the Agendashift mailing list), just ask:
I understand that I will be joining the Agendashift mailing list also
---
Related
About us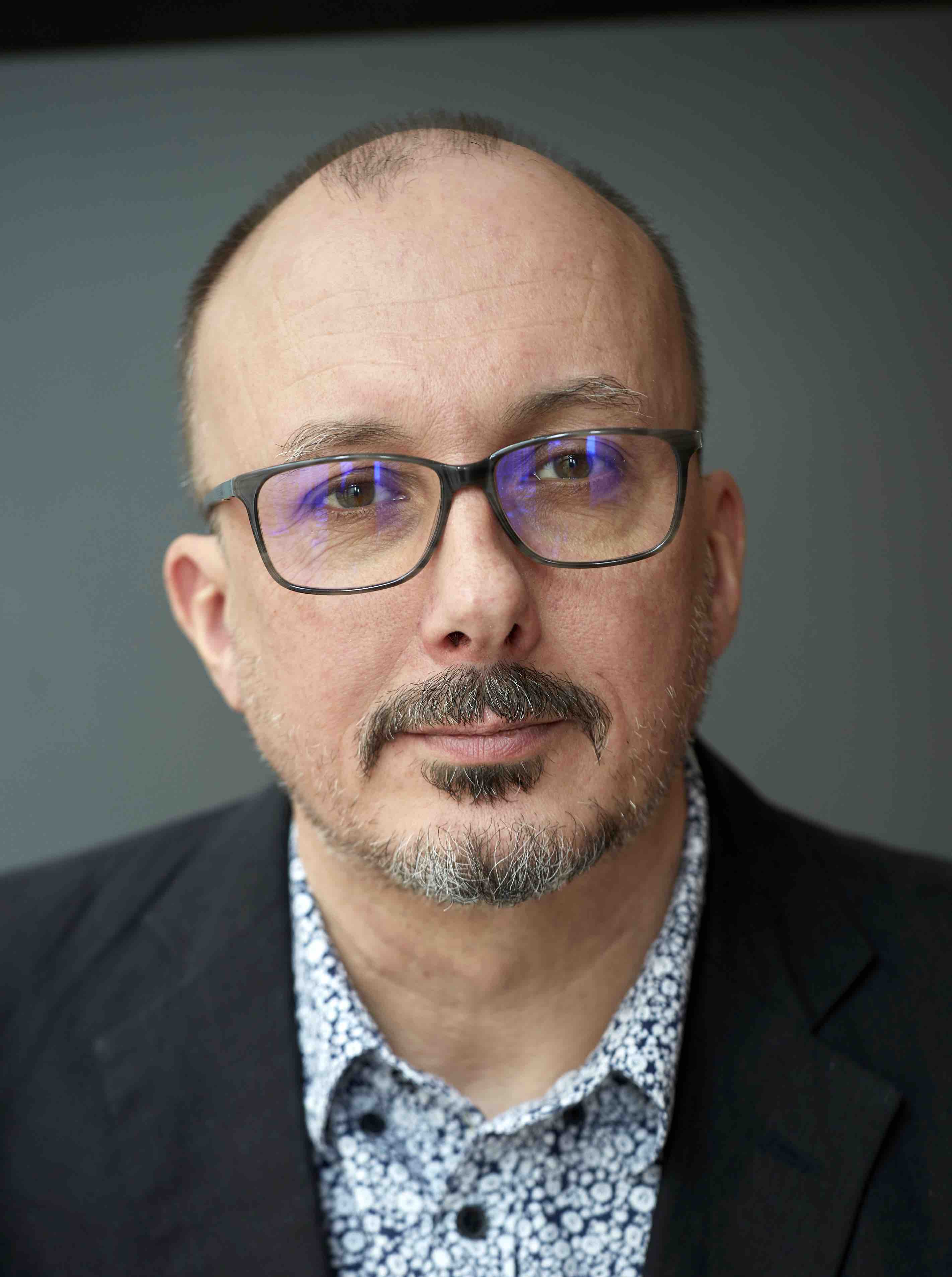 Agendashift™ is brought to you by Positive Incline Ltd, UK-based specialists in Lean, Agile, strategy, and change. Founder Mike Burrows came to prominence in the Lean-Agile community as the orginator of Kanban's values model, out of which came his first book, Kanban from the Inside (2014). His more recent books Agendashift (2018) and Right to Left (2019, audiobook 2020) bring a resolutely needs-based and outcome-oriented perspective to change, transformation, and the Lean-Agile landscape as a whole, contributing meanwhile a number of popular tools, games, and other resources. He works as a consultant, facilitator, and trainer, and as a keynote speaker at events public and private around the world.